Machete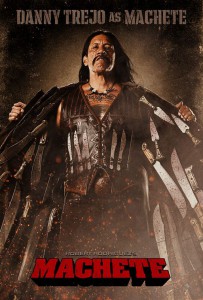 Based on the faux-preview shown inbetween "Planet Terror" and "Death Proof," Robert Rodriguez's "Machete" does exactly what it aims to do. Danny Trejo plays Machete, an ex-Federales with a huge machete that kicks a whole lot of ass. Enough Said.
Machete (Danny Trejo) was the best Federale around. Known as a hero to his country, he was feared by all the criminals in Mexico. That is until his family was murdered and his career was destroyed by the evil drug-lord Torrez (Steven Seagal). Narrowly escaping a deadly fire, Machete was forced to leave the country and flee to America.
First of all, this film is as professional and well done as it possibly could be for not taking itself too seriously. If you are expecting it to be an Oscar winning, cinematic triumph and you are already going to pre-order the Criterion edition – you are crazy. But if you are expecting to see an action packed tour de force, packed with a great cast and plenty of entertainment, "Machete" is the movie for you. And who else but Robert Rodriguez could pull of such a feat?
The movie is filmed in a unique style, similar to that of "Black Dynamite." A mix between a spaghetti western, and old action movies, it is incredible how well Rodriguez pulls of the look in 2010. Adding to the creative style are hilarious shots reminiscent to 70's vice movies, and a hilarious soundtrack. These elements coupled with some ridiculously great action scenes make for a truly entertaining film.
"Machete" has a great supporting cast. On of the main characters in the film, Senator McLaughlin, is played by Robert DeNiro. McLaughlin is running for re-election, and his platform is based on keeping illegal immigrants out of Texas. It is definitely a unique role for DeNiro, but he pulls it off without a hitch. Jessica Alba plays Immigration and Customs Enforcement agent Sartana, who is caught between doing her job and helping Machete. Michelle Rodriguez plays Luz in the film, and does a great job. Others include Jeff Fahey as Booth, Cheech Marin as Machete's brother, Don Johnson and Lindsay Lohan.
The action in Machete is completely over the top, and that is what makes it so great. The film never takes itself too seriously, while pulling off one of the most fun movies of the year. Danny Trejo does a great job as a leading man in the role, which is something we haven't had too much exposure to. The style of the movie is a lot of fun, and there seldom is a dull moment from start to finish.
"Machete" is a B