Another Take By Zac: Film Review: Going the Distance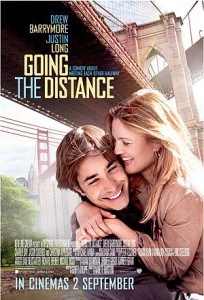 Going the Distance is dirty R-rated romantic comedy that has a grounded and believable couple surrounded by a top notch supporting cast equals a funny and entertaining flick.
The film follows Erin and Garrett a new couple that meets over a game of Centipede and when they fall harder than expected they decided to keep the relationship going when Erin has to move back across the country.  What follows is a realistic struggle as they cope with the distance, try to keep things alive, and deal with burdens of being 3000+ miles apart.  Friends and family give advice as each end of the couple struggles with the sexual frustrations, loneliness, and communication problems of being three time zones a part.  The struggle feels hard and is done very real and I can't comment enough on how authentic they made the film feel.
The two leads are played by Drew Barrymore and Justin Long and they are a couple off screen as well; and the chemistry bleeds through the screen.  They have a timing and rhythm that comes through their characters that help make the romance come easy and be very believable.  The two are also quite funny as long is underrated in my opinion and Barrymore can be quite hilarious when she just kind of goes weird and crazy.
Beyond the leads, the supporting cast is top notch all around and I couldn't be more happy for Charlie Day to get some exposure outside It's Always Sunny in Philadelphia. His character Dan isn't all that different from Charlie on Always Sunny but he has some great improve moments and bounces off Long and Jason Sudeikis.  Sudeikis is another funny man that gets some nice exposure here as well and he and his time traveling mustache are sure to rock your world.  Jim Gaffigan is criminally underused, as always, but he steals every scene he is in and has one of the biggest laughs of the movie.  Christina Applegate is also quite funny as always and I hope she continues to get movies now that Samantha Who? is out of the picture (sadly).
Now this is an R-rated affair and while it not quite as dirty as Something About Mary it is still quite raunchy at times.  The light hearted shouldn't shy away as it is nothing too outrageous but it was nice to see something a little bit edgier in the genre.  Though the dirty words do fly and thank god it's not a PG-13 affair because that edge really helped push it above the pack.  The film's set up allows it to avoid conventions that trap so many entries in the genre and Nanette Burstein does a nice job keeping the film feeling fresh.  Improv was used a lot and Burstein's documentary background probably helped this film to feel alive and never fall flat or slow down.  The characters actually struggle as well in their lives and aren't perfect beautiful super starts of their field.  Not only is this more realistic but it is also far more relatable.  It's been a nice little summer for romantic comedies; too bad no one is giving them a chance even before they get in the theater.
In the end, Going the Distance is a solid romantic comedy that is a nice R-rated spin on the genre.  Filled with a great cast and some great improvised humor the film feels fresh and real while rarely relying on throwback and broad humor.  The film does get a bit too self referential in the end, but outside of that I thought the humor worked really well.  The real life couple shines through their characters and create real and engaging leads to root for and the pair will have you smiling all the way till the end.
Going the Distance is a B