Legendary Pictures picks up Warren Ellis' 'Gravel'
This is great news. Although, if I had a nickel for every time I've heard of a Ellis story being adapted for the screen, and never coming to fruition. I'd have at least twenty-five cents by now. Ellis' stories are very hard to adapt for the screen. Why? Well, because they are incredibly nihilistic and kind of messed up.  If you took Fight Club, mixed it with South Park, and put a good bit of Caligula in there for good measure you'd have a good idea of Ellis' mind.
'Gravel' is ok, but I'd much rather see 'Transmetropolitan', 'Planetary' or 'Global Frequency'. 'Transmetropolitan' was being shopped around for the longest time, but never found anyone willing to take it. 'Global Frequency' was set up as a television show that never aired. If you've never read Ellis give him a try. Start with 'Transmetropolitan'.
From Variety:
---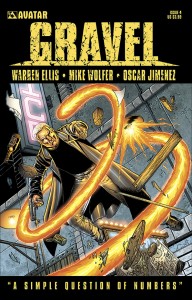 Legendary Pictures plans to delve into the world of the occult with "Gravel," picking up the rights to the comicbook series created by Warren Ellis and published by Avatar Press.
Project revolves around the character William Gravel, a soldier in the British S.A.S. who uses his skills in dark magic to moonlight and battle supernatural beings for clients in order to make some extra cash.
Ellis introduced the character in a 1999 limited series of graphic novels published under the title "Strange Kiss."
He will pen the initial draft of the screenplay for the pic and serve as executive producer on the project.
Rick Alexander, who is a producer on "Executive Vice President of Fairyland" at MGM, will produce with Legendary, which is readying to unspool "Where the Wild Things Are" through Warner Bros.
Ellis, behind the comicbooks "Planetary" and "Transmetropolitan," also created "Red," currently in pre-production at Summit Entertainment, and "Ocean," in development at Warner Bros.
Legendary is currently shooting "Inception," "Sucker Punch," "Jonah Hex" and the remake of "Clash of the Titans" at WB, and is developing a bigscreen version of "Warcraft," with Sam Raimi helming.
---
This will be Legen…wait for it….dary! In all honesty Legendary Pictures seems to be taking some major risks. They look like they might be willing to take quality source material, and turn it into quality films. I think it is great that they are taking a look at genre pictures, and giving them a serious shot.