Amy Winehouse plans new album for 2010
Amy Winehouse is a classic case of how fame can ruin someone quickly. Once she received critical praise, and large albums sales she went absolutely nuts. There was a while there I was surprised she was even able to stand up. As much as I like her first album, and her hit off of Mark Ronson's Version, "Valerie"; I will never be able to view her in the same way. When you are so messed up you require adult diapers, then there is a change needed.
From HitFix.com:
---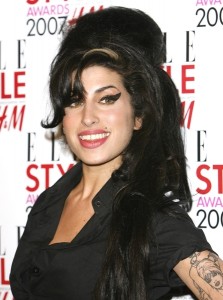 Is Amy Winehouse plotting a comeback? According to NME and her British label Island, she's on her way.
The UK mag says Island records co-president Darcus Beese already has demos in his hands of potential tracks "hopefully" for a 2010 full-length release. It would be an album that would come on the heels of Winehouse's "Back to Black," released in 2006 overseas and in 2007 here in the U.S.
"I've heard a couple of song demos that absolutely floored me," Beese said. He also said that recording has come to the "Rehab" singer, predictably, in "fits and starts."
A test of Winhouse's commitment to return to performing may come as early as tomorrow (Oct. 10), when she is scheduled to sing back-up for her 13-year-old goddaughter Dionne Bromfield on British TV show "Strictly Come Dancing." Winehouse is releasing Bromfield's debut "Introducing Dionne Bromfield," a covers set, through her own Lioness imprint on Oct. 12.
Of course, time will tell if Winehouse can turn more than one singing performance back into a full-swing career. She has botched or canceled dozens of performances over the last three years, even after her Grammy win in 2008, due to drug and drinking problems. She has often kept herself in the tabloids for outlandish public behavior and fights with now-ex-husband Blake Fielder-Civil.
---
I'm hoping she makes a full turnaround, but I'm not very optimistic. We might get another album out of her, but it may just cause her to crash again. Let's hope for the best. It is always sad to see talent go to waste.