Lawsuit May Force THE HANGOVER PART 2 To Be Changed Forever, Plot For THE HANGOVER PART 3?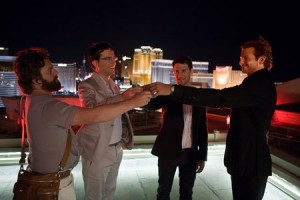 I am not on THE HANGOVER bandwagon.  I think the first one is severely over-rated and not "the funniest film in years" that some have claimed it as.  I thoroughly enjoyed WEDDING CRASHERS and I LOVE YOU, MAN so much more.  Call me crazy.  Then the sequel came out, and as you can tell from most reviews, it's not too far removed from the first one.  Needless to say I did not enjoy it.  But this will not stop me from bringing you the news that you crave.
I actually had not heard about this in the news prior to the film's release, but tattoo artist S. Victor Whitmill was not thrilled about the film using the tattoo that he created for Mike Tyson without his permission.  Whitmill filed an injunction against the studio prior to the film's theatrical releases, but the courts ruled that it would be too much of a headache for the studio to take care of this now (No, they did not say those exact words).  But the studio can alter the film, and Ed Helms' face before the home video release.  Time will tell if this movie will indeed be changed forever.
Obviously the film will get a sequel seeing that it has made a boat ton of money.  Obviously the fans love the films so I would say screw the critics and just rehash this thing one more time for a trilogy.  Zach Galifianakis recently spoke about what the plot could be, and it is far different from the first two.  In a recent interview with ROLLING STONE, the actor said that his character will be in a mental hospital, and Stu, Doug, and Phil are looking to break him out…….Well at least it is not the same story…Or maybe it will be like SUCKER PUNCH and inside of Zach's mind in the mental hospital him and his friends will wake up from another wild night and the break out of the hospital will coincide with the fantasy world mystery of what the guys did the previous night.  Just an idea.
What do you think of all this?  Should there be a lawsuit over the tattoo?  Does the man deserve some money for the art that he created?  Do we need another sequel?  Do you like what Zach said about the possible plot, or is my idea totally better?  I wanna hear your thoughts.