Lady Gaga Yearbook Photo – High School Before and After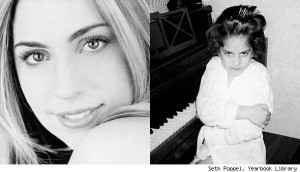 Lady Gaga has become famous for her garish outfits, and outlandish behavior. The pop sensation leaves many people wondering, what was she like before the fame? You'd be pretty surprised, but Lady Gaga was pretty vanilla at one point.  Now two photos from her high school yearbook have appeared. One is a teen aged Gaga, who then was still going by Stefani Germanotta (watch a video of her before the glitz and the glam here), the other photo is Germanotta as a child before a piano. Both photos come from the 2004 Convent of the Sacred Heart School yearbook.
Personally, I think Germanotta looked much better before all the gimmicks. I'm probably one of the few people who dislikes Lady Gaga, but I'd be more impressed if she had a little less style and a little more substance. I know that will probably piss a few people off, but I just feel she is a very clever product of marketing. Kudos for her for figuring out a gimmick that works. Only time will tell if it will last over time.