"Harry Potter and the Deathly Hallows" Film News From Rhys Ifans and Ciarán Hinds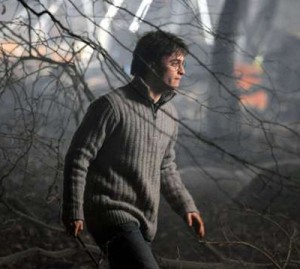 ComingSoon.net had some interviews with some new cast members of the Harry Potter series Ciarán Hinds, who plays Professor Dumbledore's brother Aberforth, and Rhys Ifans who is joining the cast as Luna Lovegood's father Xenophilius Lovegood, the editor of The Quibbler.
"It's strange,"Ciarán told the movie website. "I was made to feel very welcome, but I was there for a specific part that required just one scene and then pop up once with a wand, but apart from that, it's just one scene with a little dialogue to give some exposition about Dumbledore's past life. I had the joy of sharing the scene with three… well, they're not kids anymore… Daniel Radcliffe, Emma Watson and Rupert Grint. They were very charming, very gracious, made you feel very welcome and you're aware. Here I am at a certain age with all my experience and these kids really know what they're doing, they know their characters and here I am saying, 'Who the hell am I… apart from Michael Gambon's brother?' It's a lovely experience and the director is a very soft Yorkshire man, he's not one of these guys, 'Come on!' It's very considered and thought about. I saw him working with the younger ones, giving them little pointers, never pushing, just suggesting about development, and here I am, part of what everyone has to offer. You really have to say they're confident and they know who they are, they know what they're doing and we have to ask if we're alright."
If you've read the book, you know that while Aberforth is a minor character, he still have heavy revelations for the trio, and answers many questions about Dumbledore that will come out during the last films.
"Harry Potter has a history," said Ifans. " They've read the book and they've got kids to answer to, these people. That's a different kettle of fish, it's like being called up. You get a phone call, and they'll say, 'Listen, the Queen's a bit lonely tonight. Fancy popping over in your favorite underwear?' It's like the call-up, and it's so funny. You get on set and you see all these actors who you've either admired from afar or more often than not, actors you've worked with before, all sitting there, dressed up as wizards, having wand-offs, and then bitching about other actors who didn't get the call-up. It's just such a surreal situation to be in. I was really genuinely proud to have been invited to be part of that whole machine."