Kurt Busiek's Award Winning Graphic Novel "Astro City" Optioned by Working Title Films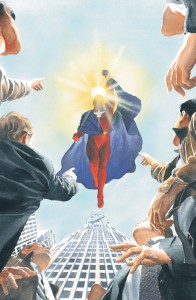 The greatest thing about events like San Diego Comic Con is the news that come out of them about genre productions. Studios seem to shore up important news only to make it have a bigger bang on the convention floor. This year one of the things to make comic book fans happy is the news that the popular, and award winning comic book "Astro City" by Kurt Busiek is being adapted into a film.
"Astro City,"created by Busiek with artists Brent Anderson and Alex Ross and published under the Image Comics imprint, tells the stories of Astro City, a fictional American city largely inhabited by superheroes.  The comic book takes many different vantage points, telling us the stories of the superheroes as well as the normal folk living in the city, and how their life is affected by superheroes flying high above them.
Since its start in 1995 "Astro City" has received twenty Eisner and Harvey Awards, including Best New Series in 1996, and Best Continuing Series in both 1997 and 1998. The stories have long been critically praised. However, this is not the first time the story has been attempted for a film adaptation.  The film was touted around for a bit in 2003, with now current executive producers Ben Barenholtz and Jonathan Alpers as producer and screenwriter.
"I'm thrilled to be doing 'Astro City' with Working Title Films," said Busiek. "For years, we turned down all offers for the book, but Working Title's track record on great movies like Love Actually, Oh Brother, Where Art Thou? and Shaun of the Dead, and their commitment to high-quality, character-driven storytelling, make me confident that this is the perfect place to make an 'Astro City' film a reality."
I'm excited to see Busiek's work translated on screen. He has long been one of the most accessible writers in comics, and his work should translate well to the screen.
What do you think? Let us know in the comments!