Christina Applegate is Engaged and Pregnant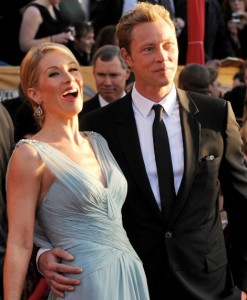 Christina Applegate sure had a rough few years. First, she divorced her husband, That Thing You Do actor Jonathan Schaech in 2007. Then, shortly after that she discovered she had breast cancer, and had a double mastectomy. (Something I shed tears over.) Then to top it all of she was on a critically praised sitcom, Samantha Who?, that never managed to find the right amount of viewers for network ABC and was canceled.
Luckily, things seem to be turning around for the Married With Children actress.  Applegate has been dating rocker Martyn Lenoble (I wish I had that cool of a name…), the bassist of the band Porno for Pyros, and the couple recently got engaged on Valentine's Day. Now the couple is expecting even more good news, as the actress's rep has confirmed that Applegate is pregnant with their first child!
Well congrats to Christina Applegate! I've never heard a bad word about her, and it is good to see things are going in the right direction for her.
What do you think? Let us know in the comments!