J.J. Abrams to Produce Boilerplate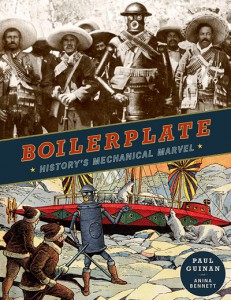 Now this sounds cool. J.J. Abrams is set to produce an adaptation of, Boilerplate: History's Mechanical Marvel, a graphic novel that follows the worlds first robot during the late 19th and early 20th centuries.
Heatvision's article sums up the premise nicely.
"Boilerplate" purports to tell the story of the world's first robot, who, in the late 19th and early 20th centuries, fought alongside Teddy Roosevelt and Lawrence of Arabia, journeyed to the South Pole and was involved in the silent movie business before disappearing on the battlefields of World War I."
Sounds brilliant right?  Well the robot design is even cooler, seen in the pic above, and I love the freedom they can go with this property making Boilerplate a Forest Gump of turn of the 20th century warfare.  Hell, you can easily gear it up for a sequel if it is a smash as well.  This kind of reminds me of Amazing Screw on Head, check out the DVD if you haven't, in that it mixes silly robot lore with history and it is a damn shame that show never went to series.
Either way, color me excited for this and I hope they get developing on it fast so we can see this one sooner, rather than later.
Check out Heatvision for the full scoop!
Check out some more Boilerplate images below, and pick up the source novel at Amazon
.