Jeremy Piven is Guest Host on WWE Monday Night RAW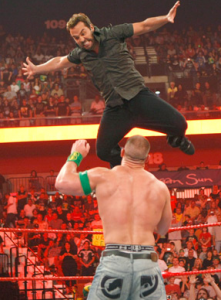 It seems that the new trend is for celebrities to guest host WWE Monday Night Raw. Obviously this is a new way to cross promote between Hollywood and Wrestling – and probably costs a pretty penny for the movie studio.
Below is a video from when Jeremy Piven guest hosted WWE RAW on Monday, August 3rd. Pretty funny stuff. As you can see, Piven was promoting his latest movie, "The Goods: Live Hard, Sell Hard" which was released last week.
Here is the list of upcoming guest hosts for future Monday nights in the works:
Bob Barker
Al Sharpton
Nancy O'Dell
Floyd Mayweather
LeBron James
According to Variety, these celebs are talking about the possibility of a future appearance: Pete Wentz, Ashlee Simpson, the Osbournes, Danny DeVito, Regis Philbin, Kelly Ripa, Jimmy Fallon, Rachael Ray, MC Hammer, Woody Harrelson, Serena Williams and Ashton Kutcher.
Watch Jeremy Piven guest host WWE Monday Night RAW