The Goods: Live Hard, Sell Hard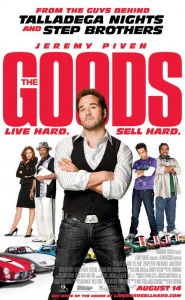 "The Goods: Live Hard, Sell Hard" is the story of Don "The Goods" Ready, a mercenary car salesman, and his team of gypsy auto pushers. Don and his crew travel from town to town, calling only a small chain of hotels their "home," as they help push cars off of the lots of failing dealerships. The movie offers laughs throughout, but did it have "the goods?"
Don Ready (Jeremy Piven) is a man that has everything. He's got enough of "the goods" to sell ice to an Eskimo, not to mention get anyone into a car that he is trying to sell. And he's got enough charisma and confidence to get any woman that he wants. Piven fit's the lead role in this film to a tee, seeing as the character closely resembles his character in Entourage (Ari Gold) that he is best known for. Jeremy Piven has the kind of on-screen charm that makes his exuberant cockiness standable in his leading role – and usually pretty darn funny. If you are coming to see the movie because of Don "The Goods" Ready, you will not be disappointed.
Don and his crew had just finished up a successful job, and hardly had time to breathe when they are called by Ben Selleck (James Brolin). The owner of the failing Selleck Motors calls the mercs as a last resort, as his dealership has turned into a ghost town. So Don and the crew (played by David Koechner, Ving Rhames, and Kathryn Hahn) head off to Temecula, California to try and sell 141 cars during 4th of July weekend.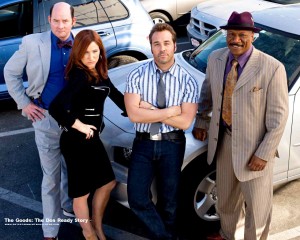 The movie follows the members of Don's crew for most of it's entirety, and their hilarious sales antics. The rag-tag group of auto salesmen were casted perfectly for their roles. David Koechner (probably best known as Champ in "Anchorman") plays Brent Gage, the number cruncher that can get a car loan approved for anybody. He was able to get MC Hammer a loan, so you know he knows his stuff. Ving Rhames does a great job in one of only a handful of comedic role s, as Jibby. Rhames is usually at his best in an action or dramatic role, but he hits a bullseye as the muscle of Don's crew that is looking for true love. Last – but not least – is Kathryn Hahn, as Babs Merrick. Hahn plays a character that we have seen her as before in comedies (like Step Brothers) – but it really works in this movie. Babs is never afraid to use "sex" to sell cars, and she has the moves to make a sale to any man that walks onto the lot. But she finds herself having trouble winning over Selleck's son, who is a sort of "man-boy," played by Rob Riggle. You will just have to see it to understand – it makes for some very funny scenes though.
"The Goods" is full of other great characters beside from the leading roles. But even though there were a ton of great actors in the movie, they weren't always used properly. Take Ken Jeong for instance, who is becoming a popular actor in some of the biggest comedies this year. Jeong plays a hilarious role in "The Hangover" as Mr. Chow, and does an amazing job as King Argotron in "Role Models." But in this film, he just wasn't used to his full potential as a car salesman. I think that the role was just too normal for him, and didn't put him in the right situation to really shine. Charles Napier plays a hard-ass salesman who has seen war, and takes his aggressions out on his co-workers and customers. Although he is pretty funny at first, it becomes the same joke over and over again. But overall, there was enough talent to raise the average – like Ed Helms (Andy in The Office) as boy band singer Paxton Harding, Alan Thicke as Paxton's father and competing dealership owner to Selleck Motors. And even expect to see a little cameo from Will Ferrell that is sure to make you laugh.
Overall, "The Goods: Live Hard, Sell Hard" is entertaining if nothing else. The story gets a little rough at times, and they run into some problems with holding onto the same jokes for way to long. But there are so many funny characters in the movie that it is hard to catch yourself NOT laughing pretty constantly. If you are a fan of comedies from the likes of Will Ferrell and Adam McKay, this first outing produced by their production company (Gary Sanchez Productions) will be a fun movie for you. And with Piven in the driver's seat, it is hard not to have fun.
I give "The Goods: Live Hard, Sell Hard" a C+