Jason Reitman Options "Elliot Allagash", a Novel by Simon Rich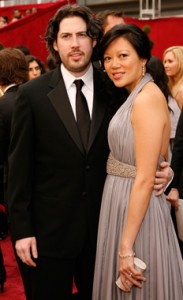 Jason Reitman is a bit of a Hollywood golden boy these days with solid performers like Thank You For Smoking, Juno, and Up in the Air. All three of his film have easily out grossed their budgets, which currently makes him a hot commodity. So, one has to sit up and notice when he picks up another project.
Reitman has acquired the rights to "Elliot Allagash", by Simon Rich who is a young writer on NBC's Saturday Night Live. Right now it appears that Reitman is just producing, but there is a good chance that he will step in to direct as well. Reitman is well known now for producing quality adaptations. (Both Thank You For Smoking and Up in the Air were book to film adaptations.)
Not many people may have heard of Simon Rich, but expect to hear much more about the young humorist in the next few years as his star begins to rise. Rich is somewhat of a wunderkind, having been the president of the National Lampoon, during his time at Harvard. Random House offered Rich a two book contract before his graduation at Harvard. If that doesn't impress you, think about this, Rich is only 25!
Random House's synopsis of "Elliot Allagash":
Simon Rich dazzled readers with his absurdist sense of humor in his hilarious collections Ant Farm and Free-Range Chickens. Now comes Rich's rollicking debut novel, which explores the strangest, most twisted, and comically fraught terrain of them all: high school.
Seymour Herson is the least popular student at Glendale, a private school in Manhattan. He's painfully shy, physically inept, and his new nick-name, "chunk style," is in danger of entering common usage. But Seymour's solitary existence comes to a swift end when he meets the new transfer student: Elliot Allagash, evil heir of America's largest fortune.
Elliot's rampant delinquency has already gotten him expelled from dozens of prep schools around the country. But despite his best efforts, he can't get himself thrown out of Glendale; his father has simply donated too much money. Bitter and bored, Elliot decides to amuse himself by taking up a challenging and expensive new hobby: transforming Seymour into the most popular student in the school.
An unlikely friendship develops between the two loners as Elliot introduces Seymour to new concepts, like power, sabotage, and vengeance. With Elliot as his diabolical strategist and investor, Seymour scores a spot on the basketball team, becomes class president, and ruthlessly destroys his enemies. Yet despite the glow of newfound popularity, Seymour feels increasingly uneasy with Elliot's wily designs. For an Allagash victory is dishonorable at its best, and ruinous at its worst.
Cunningly playful and wickedly funny, Elliot Allagash is a tale about all of the incredible things that money can buy, and the one or two things that it can't.