Interview: John Notto of Dirty Honey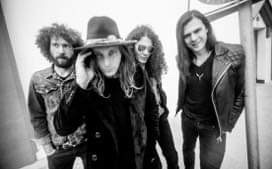 Guitarist John Notto, of rock band Dirty Honey, answered some questions for ReviewSTL ahead of their show October 14that The Pageant alongside Alter Bridge and Skillet. The band, who most recently performed a fantastic set in St. Louis during 2019's PointFest, is fresh off the release of their self-titled EP as well as their debut single reaching within the Top Five at Rock Radio.
​In John's own words, "We didn't come here to have a bad time," when asked what to expect from the upcoming set. Having performed here most recently as part of a music festival, the band is excited to be back in a more intimate venue, saying that their musicality was birthed out of bars. With their own distinct sound, DH has had the opportunity to tour and perform with a variety of different bands, including most recently, Guns'N'Roses, which Notto says has allowed them to experience and reach fans of different "breeds" of rock music. More specifically, John mentioned how special it is when meeting audience members at the merch tables after their sets, hearing how fans reacted to their music in an array of positive ways.
​Speaking on his own musical influences, Notto mentioned that he is inspired by all the guitarists of the "classic rock era," specifically Jimi Hendrix, Angus Young, and Jimmy Page to name a few. (Also, the band Van Halen as whole has had a huge impact of Notto's musical career.) However, classic rock isn't the only thing that peeks Notto's musical interest, as he finds himself fans of other fellow guitarists within the modern rock era.
​On performing live and asked what his favorite song was to perform, Notto had a hard time choosing just one, which is fair. Instead, he listed some of his favorite numbers to perform live, including "When I'm Gone," because of the reaction from the crowd, as well as "Break You," which was recently released on vinyl. Notto mentioned that bassist Justin Smolian "goes completely berserk" during the track, which lends to the excitement of the performance.
​Exploring the band's hit song "When I'm Gone," Nottosaid the lyrics were very meaningful and autobiographical of lead vocalist Marc LaBelle. In fact, the song actually had a different chorus when written, still linear within the theme and elements of the song and was changed before release. Overall, the track exists as a "blueprint" for the type of music the band strives to make. Even if the next song doesn't sound similar, it's echo can still be heard. The song evolved slowly, as where some of their writing process is similar to gas on a flame, this organic and hybrid process took a little bit longer, but in John's own words "is just as sweet, just took a little more time to grow."
​"The ending noodle," is one of the performer's favorite moments on stage, hitting that last solid note that has the right amount of emphasis and garners the most electric reaction from the audience. Further talking about their set, the band brings the upmost energy from their introduction into their first song until their very last victorious and suspended note.
​Dirty Honey has their own unique and divine sound, delivering a helluva rock show, and wishes audiences members walk away "feeling rejuvenated." Setting them apart in their own time, Dirty Honey is happy to put the "Roll" back in "Rock'n'Roll," with a lively atmosphere and a gut-punch of a performance leaving fans wanting more. If their performance in May is any indication of their upcoming set, this is a show you will not want to miss.
​Again, Dirty Honey will be performing Monday, October 14th at The Pageant. Tickets and further info can be found on TicketMaster. The band's hit single "When I'm Gone" as well as their newly released music video for "Rolling 7s" is available for purchase and streaming now.
​
​