Theatre Review: New Line's CRY-BABY Brings Tears of Laughter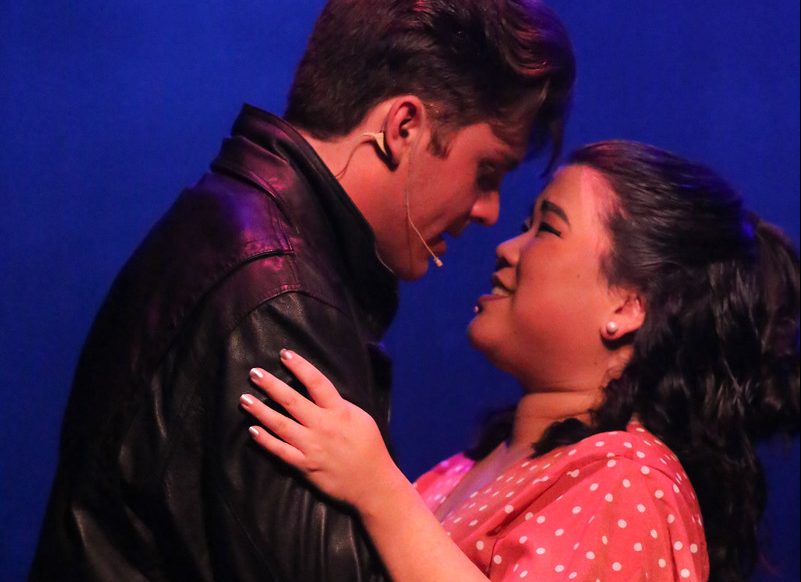 My only experience going into Cry-Baby at The Marcelle was the 1990 film, directed by John Waters and starring Johnny Depp as the titular heartthrob. New Line Theatre produced the musical back in 2013, the show right before my introduction to "The Bad Boy of Musical Theatre" – High Fidelity (still one of my favorites to this day). So I was excited to hear that they would be putting it on once again to kick off the 2019-2020 season.
David Javerbaum and Adam Schlesinger wrote new music, while Mark O'Donnell and Thomas Meehan were responsible for the book (who also adapted Waters' film Hairspray for the stage in 2002). Similar to the film, the story follows two groups of teens: a group of rebellious teens called The Drapes, and the squeaky-clean, uptight Squares. If Grease and West Side Story had a baby, it might be called Cry-Baby.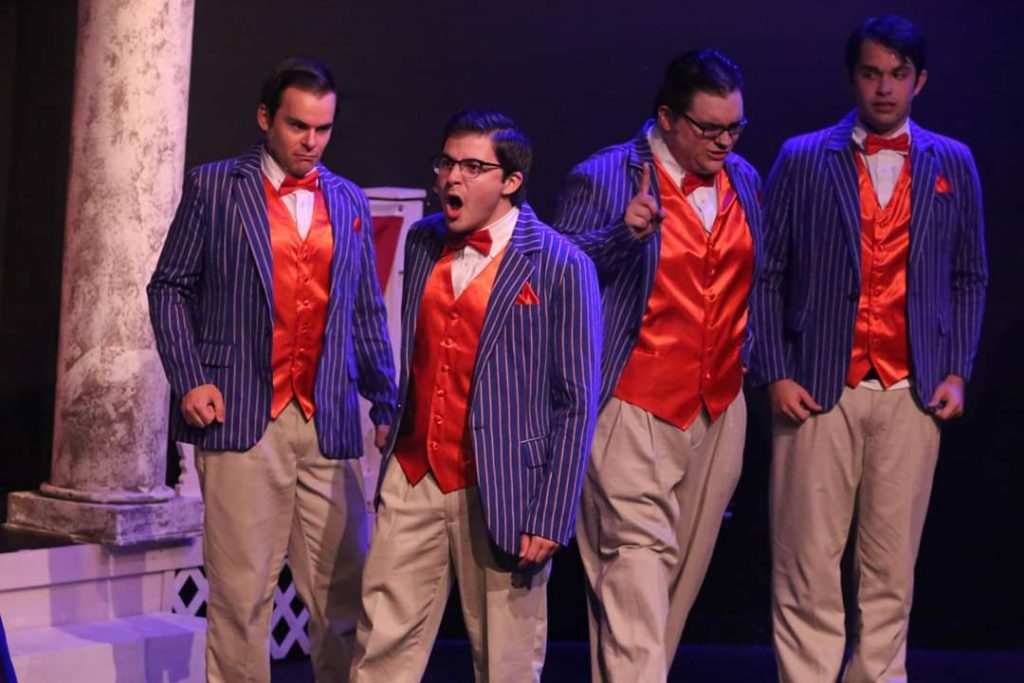 From the opening number, the show sets the tone with the hilarious and absurd number, "The Anti-Polio Picnic." We're introduced to the Squares and their glee club called The Whiffles singing about vaccinations. Lead by Baldwin (Jake Blonstein) and comprised of singers played by Stephen Henley, Ian McCreary, and Christopher Strawhun, the clean-cut group is hilarious as they describe just how "Squeaky Clean" they are. All of their anti-polio fun is interrupted when Wade "Cry-Baby" Walker (Caleb Miofsky) and the Drapes appear unannounced.
Here we meet Cry-Baby's cousin Pepper Walker (Reagan Deschaine), Wanda Woodford (Jaclyn Amber), Mona "Hatchet-Face" Malnorowski (Sarah Gene Dowling), and Dupree W. Dupree (Marshall Jennings).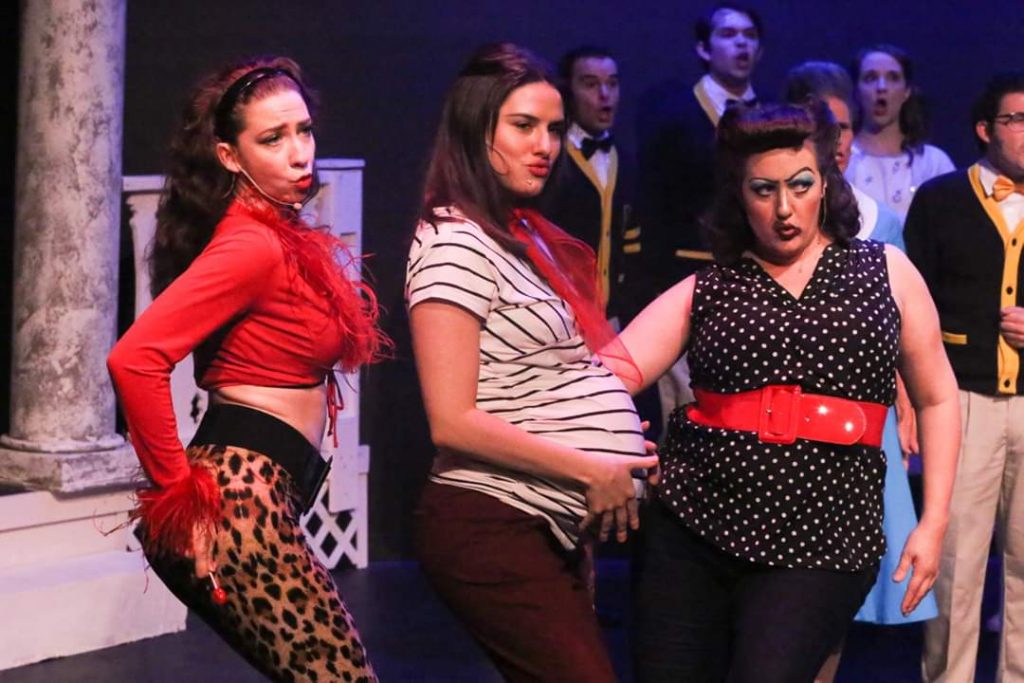 Cry-Baby instantly grabs the attention of good-girl Allison Vernon-Williams (Grace Langford), who proceeds to sing "I'm Infected" about her love at first sight encounter with him. This is much to the dismay of her grandmother Mrs. Cordelia Vernon-Williams (Margeau Steinau), who knew Cry-Baby's parents and wants her granddaughter to have nothing to do with him or his cohorts. She tells them to leave, and later denies them access to their country club – yet Cry-Baby asks her to meet him at Turkey Point to sing with him and the Drapes.
Miofsky is excellent in the titular role, and a high-schooler himself – adding further authenticity to the performance. He has the look down, and the body language to convey the teenage angst the character calls for. And a set of pipes that would make Greased Lightning jealous.
Lenora Frigid (Aj Surrell) is a Square who's unhealthily infatuated with Cry-Baby, singing a hilarious song at the "Jukebox Jamboree" about having a "Screw Loose" for the bad boy. Surrell is hilarious throughout the show as the obsessive teen and steals the show during this show-stopping number.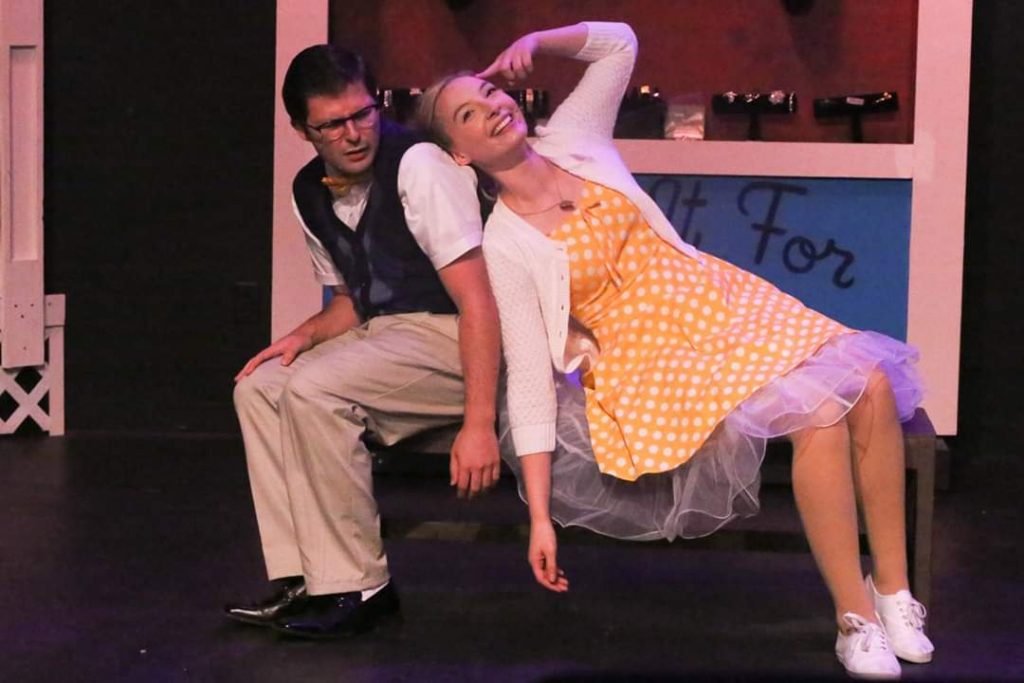 Grace Langford is a New Line regular who never ceases to impress, with this role being no exception. She has a great voice, and perfect timing when it comes to her physical comedy. The actor is always believable as the teen in love and tackles the confusion that comes along with it tremendously. She and Miofsky are an excellent pairing.
Blonstein is another standout as the leader of the Whiffles, playing the perfect preppy villain. He reminds me of a young Rick Moranis, and is the type of antagonist you love to hate. He carries himself well as the uptight square, who has a gross idea of how you should treat others. He is terrific as he leads the Whiffles in several a capella numbers, and lots of fun to watch as he tries to take on the Drapes throughout the show.
Dowling is terrific as "Hatchet-Face," getting laughs every time she appears on-stage with her energy and comical facial contortions. Also amongst the talented cast is Todd Micali – switching between roles as a doctor, Judge Stone, Father Officer O'Brien, and others.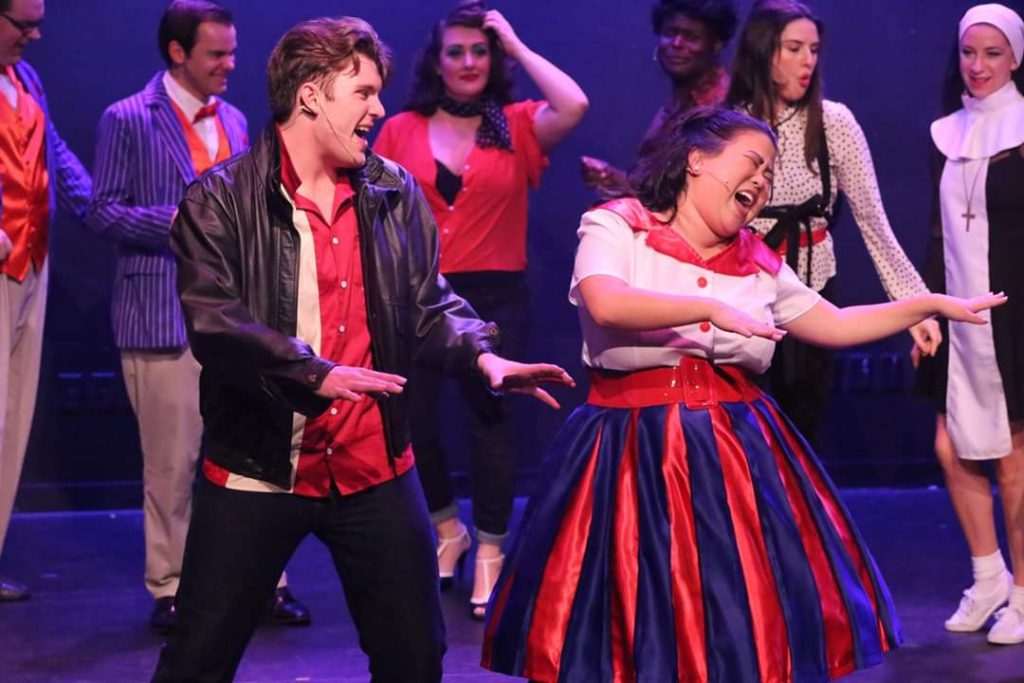 New Line patrons will be familiar with Evan Fornachon's work on the stage – but for this show, he puts his talents to excellent use behind the scenes designing the show's wonderful 50s costumes. Along with Colene Fornachon, they've worked hard to pull the audience into the era with their delightful period-appropriate outfits.
Rob Lippert's scenic design is terrific as always, making use of all the space provided in the wonderful black box theater.
There is great music in the show, and the New Line Band sounds better than ever with the rockabilly score. The original Broadway composition called for a full orchestra, but it was modified to accommodate a smaller band when the theatre company wanted to put on the first regional production. Under the direction of Nicolas Valdez and Marc Vincent, the 50s vibes flourish.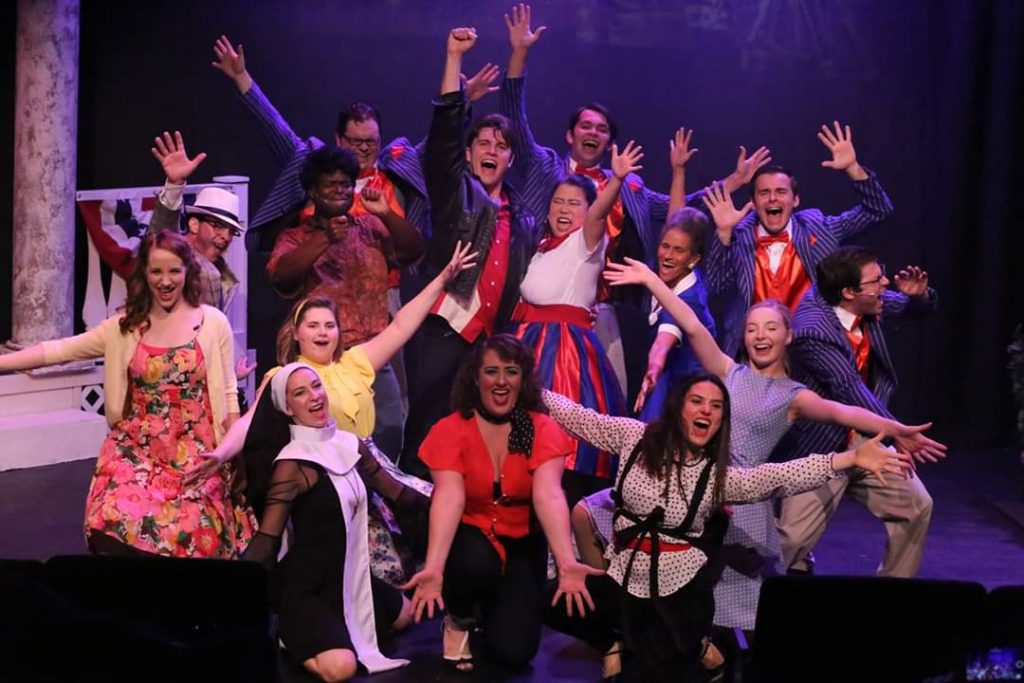 Cry-Baby offers a fresh take on the cult classic film that translates wonderfully to the musical stage. Directors Scott Miller and Mike Dowdy-Windsor do what they do best, and breathe fresh life into a show that was taken from Broadway far too soon. The show will have you laughing non-stop, with terrific performances and great songs that are sure to stick in your head.
See Cry-Baby at New Line Theatre through October. For tickets and more information, visit http://www.newlinetheatre.com.
Photos by Jill Ritter Lindberg.