"Holy Rollers" Trailer Starring Jesse Eisenberg and Justin Bartha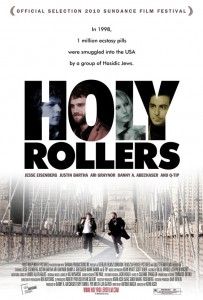 This isn' t a film that will go onto huge commercial success, but it still looks great. You'll find it is a hard sell to convince the average movie patron to pay money to watch a movie about Hasidic Jews, turned drug dealers. I must be in that audience, because I think the trailer for the film is brilliant. It also contains a cast of people who I think are on the verge of breaking out big time. Jesse Eisenberg and Justin Bartha both broke out huge last year with Zombieland and The Hangover respectively. Ari Graynor is right up there with them with solid turns lately in such films as Whip It, Youth in Revolt, and a recurring role on Fringe.  This film should play well in the urban markets with art house theaters.
Synopsis:
Inspired by actual events in the late nineties when Hasidic Jews were recruited as mules to smuggle ecstasy from Europe into the United States. Sam Gold, a young Hasid from an Orthodox Brooklyn community reluctantly follows the path his family has chosen for him, awaiting a pending arranged marriage and studying to become a Rabbi. A charming neighbor, Yosef Zimmerman, senses Sam's resistance and propositions him to transport 'medicine' for Jackie, an Israeli dealer, and his girlfriend, Rachel. Sam quickly demonstrates his business skill to his bosses, who instantly take Sam under their wing. Now exposed to the exciting and gritty worlds of Manhattan and Amsterdam nightlife, Sam begins to spiral deeper into their detrimental lifestyle, experimenting with ecstasy and then falling for Rachel. As the business grows, Sam's double life begins to rip his family apart and the community becomes suspicious of his illegal activities. Sam slowly comes to realize the façade behind the easy money and parties. Caught between life as a smuggler and the path back to God, Sam goes on the run, forced to make a fatal decision that could bring the entire operation crashing down.
Starring: Jesse Eisenberg, Justin Bartha, Danny Abeckaser, QTip , Ari Graynor
Directed by: Kevin Asch
Produced by: Danny Abeckaser, Tory Tunnell, Per Melita
Release Date: May 21, 2010 (LA/NY)