"Just Wright" HD Trailer Starring Queen Latifah and Common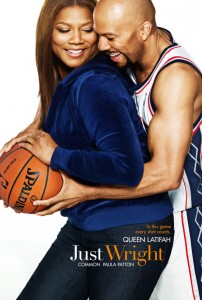 Judging from the poster alone I was dreading watching the trailer. I ended up a bit surprised, the movie seems a by the book romantic comedy, but I still enjoyed the trailer. Once again, it will be one of those movies with no surprises, and you will be able to follow every plot point as if you were following a map. What we learned last summer was that it all depends on the quality of your leads. That is why movies like The Proposal and The Ugly Truth were able to enjoy decent returns at the box office. With solid leads like Queen Latifah and Common, you know this could become a surprise hit at the box office.
Synopsis:
Just Wright revolves around a sports trainer (Latifah) who finds herself falling in love with a professional basketball player (Common) while rehabilitating him from a career threatening injury. Things are further complicated because her closest friend (Patton) is also pursuing him.
Starring: Queen Latifah, Common , Paula Patton, Michael Landes, Pam Grier
Directed by: Sanaa Hamri
Produced by: Sha-Kim Compere, Debra Martin Chase, Queen Latifah
Release Date: May 14, 2010