"Letters To Juliet" HD Trailer Starring Amanda Seyfried and Chris Egan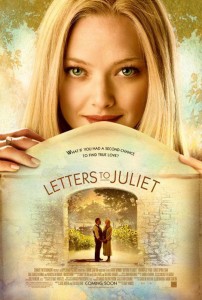 Amanda Seyfried seems to be cementing herself as the queen of romance movies. Her latest one is a film that will make tweens swoon with delight. Everything about the film seems very generic, but it actually has a surprisingly good cast.  Not to mention the fact that due to location it will most likely look great. Just judging from the trailer I don't think this movie will be anything special, but it will most likely make for a fairly entertaining date movie.
Note: This seems to be one of those trailers where they seem intent on spoiling every bit of the movie for you. So, watch at your own risk.
Synopsis:
When a young American travels to the city of Verona, home of the star-crossed lover Juliet Capulet of Romeo and Juliet fame, she joins a group of volunteers who respond to letters to Juliet seeking advice about love. After answering one letter dated 1951, she inspires its author to travel to Italy in search of her long-lost love and sets off a chain of events that will bring a love into both their lives unlike anything they ever imagined.
Starring: Amanda Seyfried, Vanessa Redgrave, Gael Garcia Bernal, Franco Nero, Chris Egan
Directed by: Gary Winick
Produced by: Ellen Barkin, Caroline Kaplan, Mark Canton
Release Date: May 14, 2010