"Mother and Child" Trailer Starring Annette Benning and Naomi Watts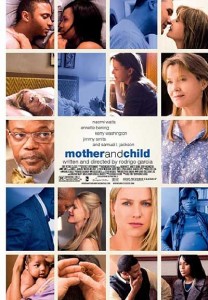 The same week that Babies comes out, we get another film, this time fiction, that deals with relationships. (Watch the awesome looking trailer here.) This time though it deals with the relationship of the mothers instead of the babies. It has an A-list cast consisting of Annette Benning, Namoi Watts, and Kerry Washington.  This is a film that isn't really targeted towards me. The film may be targeted towards women, but it looks like a sharply written drama, with good acting and a decent script. It could also end up being overly wrought with drama, and fall flat. It is one of the few smaller releases this year though that has yet to get any buzz.
Synopsis:
Three women's lives share a common core: they have all been profoundly affected by adoption. Karen had a baby at 14, gave her up at birth, and has been haunted ever since by the daughter she never knew. Elizabeth grew up as an adopted child; she's a bright and ambitious lawyer, but a flinty loner in her personal life. Lucy is just embarking with her husband on the adoption odyssey, looking for a baby to become their own.
Starring: Naomi Watts, Annette Bening, Kerry Washington, Samuel L. Jackson, S. Epatha Merkerson
Directed by: Rodrigo Garcia
Produced by: Alejandro Gonzalez Inarritu, Julie Lynn, Jonathan McCoy
Release Date: May 7, 2010 (Limited)