"Babies" HD Trailer – New Documentary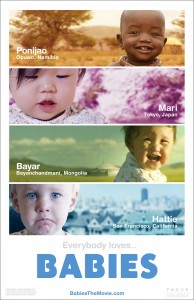 If someone asked me if I wanted to watch a documentary about babies, my answer would be no every time. However, after watching this trailer I can't wait to see this movie.  It looks great in every aspect. Beautifully shot, grasping story, and it even has babies that look adorable. I'm pretty sure you'd have to have a heart full of coal to watch this trailer and feel nothing.  It looks like this will actually get a semi-wide release in May, but it will most likely be lost in the shuffle since Iron Man 2 will be coming out the same week. Although, for the person who doesn't want a special effects bonanza this might be the perfect thing to see.
Synopsis:
Everybody loves… BABIES. This visually stunning new movie simultaneously follows four babies around the world – from first breath to first steps. From Mongolia to Namibia to San Francisco to Tokyo, BABIES joyfully captures on film the earliest stages of the journey of humanity that are at once unique and universal to us all. The children are, respectively, in order of on-screen introduction: Ponijao, who lives with her family near Opuwo, Namibia; Bayarjargal, who resides with his family in Mongolia, near Bayanchandmani; Mari, who lives with her family in Tokyo, Japan; and Hattie, who resides with her family in the United States, in San Francisco.
Directed by: Thomas Balmes, Thomas Balmès
Produced by: Alain Chabat, Amandine Billot, Christine Rouxel
Genres: Art/Foreign, Documentary and Kids/Family
Release Date: May 7, 2010 (Limited)