Guillermo del Toro's Upcoming Projects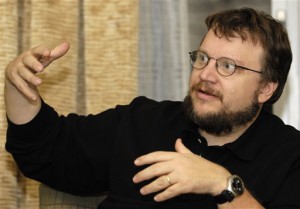 I'm a huge fan of Guillermo del Toro. In my opinion, "Blade II" is the best in the trilogy. "Hellboy" was great, and the sequel is one of my favorite comic book films. He also produced "The Orphanage," which I think is a horror film that more people need to see.
Del Toro is currently at Comic-Con making big announcements that I have been long awaiting. First, he announced that he will be teaming up with Disney to bring us a new take on "The Haunted Mansion." Yes, this is the same property that Eddie Murphy starred in a couple years back, but with Guillermo at the helm we can expect much darker things.
Del Toro had this to say on the project, "I couldn't be more excited to be a part of my own adaptation of the original theme park attraction Walt envisioned and that remains- for me- the most desirable piece of real estate in the whole world!"
Even more, just a couple hours ago del Toro showed footage of the new film he wrote and produced Don't Be Afraid of the Dark. The film stars Guy Pearce and Katie Holmes.
The summary follows:
A young girl, after moving in with her father and his girlfriend soon discovers creatures are living in the house with them. Originally thought to be friendly, she soon learns otherwise.
Both films are something to look out for with "Don't Be Afraid of the Dark" being released January 21, 2011, while "The Haunted Mansion" will likely see pre-production soon.