Golden Globe Nominee Mila Kunis is Now Single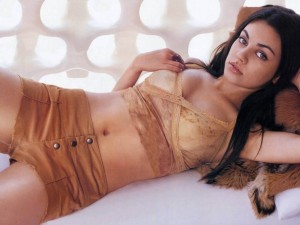 Two things shocked me when I first heard this bit of information.
1.  I didn't know that Mila was not in the market.  This isn't completely a surprise.  Ms. Kunis is far from a house hold name and has only recently become more popular after Forgetting Sarah Marshall and her Golden Globe nominated turn in Black Swan.  There are plenty of star couples that keep a low profile.  I mean Kaley Cuoco dated her co-star for over a year without anyone knowing.
2.  Mila Kunis broke up with Macauley Kulkin.  Wait, what?  Yes, that Macauley Kulkin. 
The two began dating in 2002.  Engagement rumors followed a couple years later, but the two were never really engaged.  Kunis has said before that marriage is not something that is important to her.  I am sure that her recent popularity has put a strain on their relationship.  We can only hope that the two parted ways civilly.
This leaves only one important question:  Who is hotter, the recently engaged and preganant, Natalie Portman or the newly single Mila Kunis?  Let us know what you think in the comments below.