Ghosts of Girlfriends Past Feature | McConaughey, Garner
Ghost lusters
April 22, 2009
By ANGELA DAWSON
Entertainment News Wire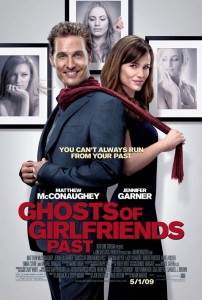 HOLLYWOOD — Jennifer Garner is praising the acting prowess of her "Ghosts of Girlfriends Past" co-star Matthew McConaughey when the blond hunk hurries in and gives the former "Alias" star a friendly peck on the cheek.
"Happy Birthday!" he exclaims. "Someone just told me. Usually someone will let you know, or they let someone let you know, but you didn't tell anyone."
Garner smiles demurely and explains that she's been so busy with the daily chores of motherhood and promoting their romantic comedy that she hasn't had time to think about a birthday celebration.
"I figured you guys would be pretty on top of it," the 36-year-old actress quips, pointing to the press corps assembled in front of her.
But cake and ice cream will have to wait. Garner and McConaughey have work to do.
In "Ghosts of Girlfriends Past," McConaughey, 39, plays Connor, a womanizer who gets his comeuppance Scrooge-style, via a trio of ghosts who take him on a journey through past, present and future romantic conquests. He's also visited by his late mentor, Uncle Wayne (played by Michael Douglas with smarmy gusto).
Garner plays Jenny, the girl who broke Connor's heart years earlier by not picking up on his timid cues at a school dance. Jenny is now the maid of honor at Connor's brother's wedding, an event that Connor seems determined to ruin. Jenny's presence, however, complicates things as Connor still holds a torch for his childhood sweetheart.
While plotting to disrupt his brother's nuptials, Connor is visited by three female ghosts. Traveling by bed _ what else? _ they show Connor where he went wrong.
McConaughey, a veteran of hit romantic comedies, including "The Wedding Planner," "How to Lose a Guy in 10 Days" and "Failure to Launch," says the supernatural aspect appealed to him.
"Usually it's just guy-girl, guy-girl," he says. "You look at the poster and you know we're going to split up, and you know we're going to get together at the end, but hopefully you are going to be entertained at how we get together at the end. This had a few different twists. We have ghosts."
"There are messages in the movie," chimes in Garner, a rom-com vet herself. "You have to take a chance on love."
McConaughey _ who's in a relationship with Brazilian model Camila Alves, with whom he has a 9-month-old son, Levi _ quips that he's been fortunate enough to maintain good relations with most of his ex-girlfriends.
"I'm very happy to say that they're not nearly as pissed at me as the girls are at Connor," he says, flashing a toothy grin.
Vince Vaughn initially was cast to play Connor, but the project went through such a long development process that Vaughn dropped out and McConaughey came on board. Director Mark Waters says the casting change worked because McConaughey is more believable as a guy who takes a journey from an unrepentant ladies' man to a remorseful soul on the road to redemption.
"There's something about Matthew's charm and the fact that he gets away with murder with women that you kind of are willing to go there," says the filmmaker, whose previous credits include "Mean Girls" and "Freaky Friday."
Garner was particularly amused by a long, flowing Fabio-type wig McConaughey wears during a scene set in the 1980s, when his character was a teenager.
"The hair was a big thing," Garner recalls, smiling. "It was pretty great."
"I loved it," McConaughey agrees.
"The hair got caught in his mouth and he did a lot of this," she says, tossing her head to one side and then the other.
"That was a move my brother used to do," the Texas born actor recalls.
"There was definitely something fun about (the long wig) that made me sort of comfortable in that decade that I do love so much."
"You were cheesy," Garner playfully quips.
"You didn't like that hair?" he asks with mock surprise.
"And the silk shirt…" Garner continues, rolling her eyes.
"It was a little too tight," McConaughey confesses.
Married to actor Ben Affleck with whom she has two children, Garner says it was fun to do a romantic comedy.
"The whole point of playing a role is it's not really you," she says.
"You get to pretend falling in love and it's great. Nothin' better."
Unlike her Jenny character, Garner says she's never had a problem giving bad boys the brush-off. But the scenario was a familiar one.
"One of the things I liked about the role was it sounded like a version of conversations I've had with tons of girlfriends," she says. "'Stay away from him!' 'Oh, I can I see what he could be.' 'Just leave it alone. It's never going to happen.' So that made it kind of fun."
Having fun is important when you're trying to juggle career and family, says Garner, who next stars in the Ricky Gervais comedy "This Side of the Truth."
"Just looking at it as a working mom, there are a lot of great things about what I can do," she says. "If I need to take a break and feed the baby, they let me. This isn't always the case for women in the corporate world. I have the support of a great partner in raising the kids. He is super involved."
New-mom Garner provided parenting tips to McConaughey, whose girlfriend was pregnant during production.
"I was giving him lists all the time," she chuckles.
"You made it very seamless," he acknowledges.
Unlike his marriage-averse character, McConaughey says he has no problem with the institution, though he doesn't plan on tying the knot with his girlfriend anytime soon.
"I'm actually for it, believe in it, and have seen it actually be very, very healthy for many relationships," he observes. "It's just not something I plan on doing right now. It's not what I feel I need to do."
The actor, whose personal motto is "Just Keep Livin'," wants to do more traveling.
"I'm going to be visiting Brazil more," he says. "I've been there twice and it's beautiful. There are places I'd like to go in Africa and in South America. And I'm interested in Iceland."