George Clooney in on 'Oscars' Feud With Alec Baldwin, According to Rep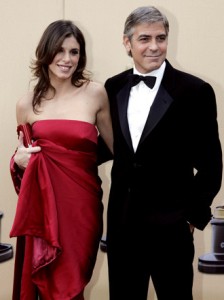 The Oscars only come once a year, and normally provoke a lot of happiness and excitement for actors and moviegoers alike.  So it was strange when A-lister George Clooney wore a frown for most of the Academy Awards.
Even when walking the red carpet before the Oscars, it seemed that Clooney was a bit off.  Maybe he was preparing for things once he got inside.  But it was most apparent that something was up once the show started. During hosts Steve Martin and Alec Baldwin's opening, George Clooney hardly budged an inch when they pointed him out.  "Oh look, there's George Clooney," said Alec Baldwin.  The camera panned to Clooney, who was still wearing a frown.  They did happen to go back to him again before the opening was over, and he let a bit of a smile through.
According to EW, Clooney was in on the bit.  A rep told the entertainment magazine that Clooney was told ahead of time by both Steve Martin and Alec Baldwin that they would be spotting him.  So it doesn't look like there is any bad blood between the celebs.
For a complete list of 2010 Oscar Winners, click here!
What did you think about the strange exchange of stares during the Oscars? Leave a comment below!