Funny People tops Weekend Box Office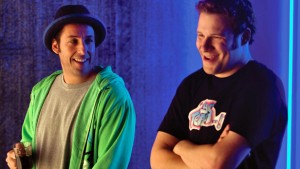 Well no surprises here, Judd Apatow's new comedy Funny People topped the weekend box office charts with an estimated gross of $23.4 million. The R-rated comedy finished within expectations of the studio, but at the low end of most advance estimates. While it is the top picture of the weekend, things aren't perfect. This marks a 15% decline from the opening of Apatow's previous writing and directing outing, Knocked Up, which had an opening weekend $30.7 million.
Among holdovers Harry Potter and the Half-Blood Prince continued to go strong with a $17.7 million dollar weekend to bring it's domestic gross up to $255.5 million. Last week's top of the box office, G-Force,  dropped 46% to come in just after Potter with $17 million.
The other new wide release of the weekend, Aliens in the Attic, performed well below expectations bringing in only$7.8 million. This might be partially due to the amount good childrens entertainment out at the moment, such as G-Force, Up, and Ice Age: Dawn of the Dinosaurs. The film which has gotten mixed critical response, resting at 27% fresh on RottenTomatoes.com, may have been hurt by some of the more negative response.
The Hangover once again continued it's amazing run to drop only 21% to make a bit over $5 million this weekend, bringing its grand total to almost $256 million. It seems that this film has the longest legs of the summer, and the talk of a sequel is probably not a bad decision for the studio. Suprisingly the Sandra Bullock and Ryan Reynolds romantic comedy, The Proposal, continues to show it has some legs dropping only 24% with a $4.8 million dollar weekend. The comedy has grossed just shy of $149 million so far, the best of both actors careers with them in the lead role.
Overall, it was kind of a lackluster weekend for the last weekend of July. We are now leaving the heft of the summer movie season and moving back into new territory. Let's see how the box office holds up the rest of the year.