Framing Hanley – A Promise to Burn (CD Review)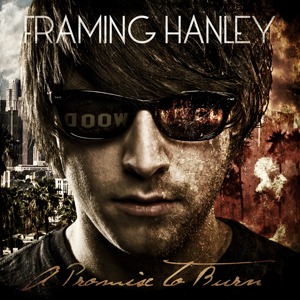 Too often nowadays, it seems like a new album release from a favorite band is a bit like a date with me. The early promises sound terrific, and it seems like it has the potential to be something special, but you quickly discover underneath all the eye candy, there's not much depth. After a while, the novelty wears off, monotony sets in, and length becomes an issue.
Straight outta Compton…er, I mean Tennessee, Framing Hanley is unfortunately best-known for their cover of the Lil' Wayne song "Lollipop." Although they did do a decent job with the cover, it overshadows what was a strong debut album, "The Moment." Framing Hanley's toured with such acts as Theory of a Deadman, Hollywood Undead, Hinder, and Red Jumpsuit Apparatus, but has largely remained under the radar.
When I found out about the new album, I started to get excited. (Let's be honest, though, it doesn't really take a lot to get me excited. I get stoked when I find an extra chicken nugget in my dinner at McDonald's.) After hearing some of the previews on FH's youtube channel, I was chomping at the bit to get my hands on the album. After my second listen-through, I come away with the feeling they played it safe for fear of backlash.
That's not to say there aren't things to like about the album. Kenneth Nixon's vocals are as strong as ever. Plenty of singers ruin their voices through smoking or various other vices (see: Oasis, Starting Line, Hinder), but Nixon has kept his voice in good shape and demonstrates a good range throughout the album.
There are also some terrific song choices on here. The single, "You Stupid Girl," portrays the negative effects attraction can have on a guy and was a good choice as a lead for the album. My personal favorite is "Livin' So Divine." Simple, somewhat heavy, yet still melodic, it's a return to Framing Hanley's strengths from its first album.
The main issue I have is that although they try to vary the sounds of the songs, for the most part, they seem to muddle together. It seems like every song falls into two categories: the "harder" faster-paced rockers and the slow-paced attempts at ballads. The one attempt at a change of pace, "Photographs and Gasoline," doesn't offer enough variety to really make it stand out.
Even my favorite song has its issues. When the band was promoting the album, they released several websides on youtube to show them in the studio. For the fourth video, they used the instrumental track to "Livin' So Divine," during which they had the guitars mixed high and demonstrated a couple of simple, yet effective, riffs. But when they mixed in Nixon's vocals for the album, they toned back on the guitar quite a bit to the point where the riffs are all but gone.
These issues aside, "A Promise to Burn" is an entertaining listen. There's a lot to like if you enjoyed the first album, but if you're hoping to hear an evolution of their sound, you'll most likely leave bitter and disappointed.
Just like my women.