Film Review: 'Get Hard' Starring Will Ferrell and Kevin Hart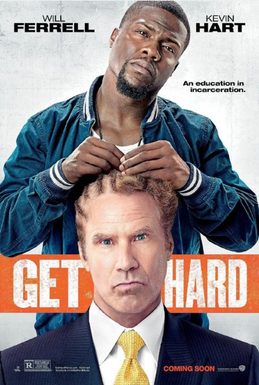 It isn't easy to think of a bigger name right now when it comes to comedy films than Will Ferrell. Ever since he starred in Old School with fellow Frat Pack members Vince Vaughn and Luke Wilson, Ferrell's had a part in several of the most oft-quoted movies of the last decade. His general lack of shyness coupled with an overall good guy persona (with a few exceptions) has earned him the love of many fans around the world.
Now, it's reasonable to think that Ferrell alone could carry a comedy title, but in this case, the producers managed to enlist Kevin Hart to play Ferrell's foil. Hart has enjoyed a meteoric rise to fame the last few years with his stand-up routine as well as his role in other recent films such as Ride Along and The Wedding Ringer. Hart has a knack for comedic timing, and combined with Ferrell's naivete, it's almost enough to save Get Hard, but not quite.
<>
James King (Ferrell) is a brilliant businessman who makes a routine out of making multi-million dollar transactions. Combined with his gorgeous fiance (played by Alison Brie), King's got the perfect life right up until the point that he's falsely arrested and convicted of tax evasion.
King is given 30 days by the judge to get his affairs in order before he's sent to San Quentin, a maximum-security prison. Hoping to survive with his dignity intact until his boss (Craig T. Nelson) can figure out who set him up, he turns to Darnell Lewis (Hart), whose company washes the cars in King's work's garage. Thinking Lewis is the perfect instructor since he's been in prison, King appears confident he'll make it out alive after serving his time.
The only problem? Lewis has never been to prison. He's desperate for money to put down on a house, though, so when King offers him the $30,000 he needs, he readily agrees, much to the chagrin of his wife (Edwina Findley).