Film Festival Favorite, "BLACK DYNAMITE" to Be Released by Apparation
Today in Hollywood, Sony Pictures Worldwide Acquisitions Group and Apparition made a joint press release to announce that they will be will releasing BLACK DYNAMITE on October 16th. Sony Pictures Worldwide Acquisitions Group President, Steve Bersch, said that, "We knew we had a clever and intelligent laugh-out-loud film when we bought BLACK DYNAMITE in Sundance. Apparition's Bob Berney says that "Scott Sanders has made a classic: a movie that audiences quote lines from walking out of the theatre. Michael Jai White gives a kick-ass, hilarious performance that shows true knowledge and love of the genre. This one is really fun to be a part of; I discover new laughs every time I see the film."
Watch the Red Band Trailer for "Black Dynamite" Below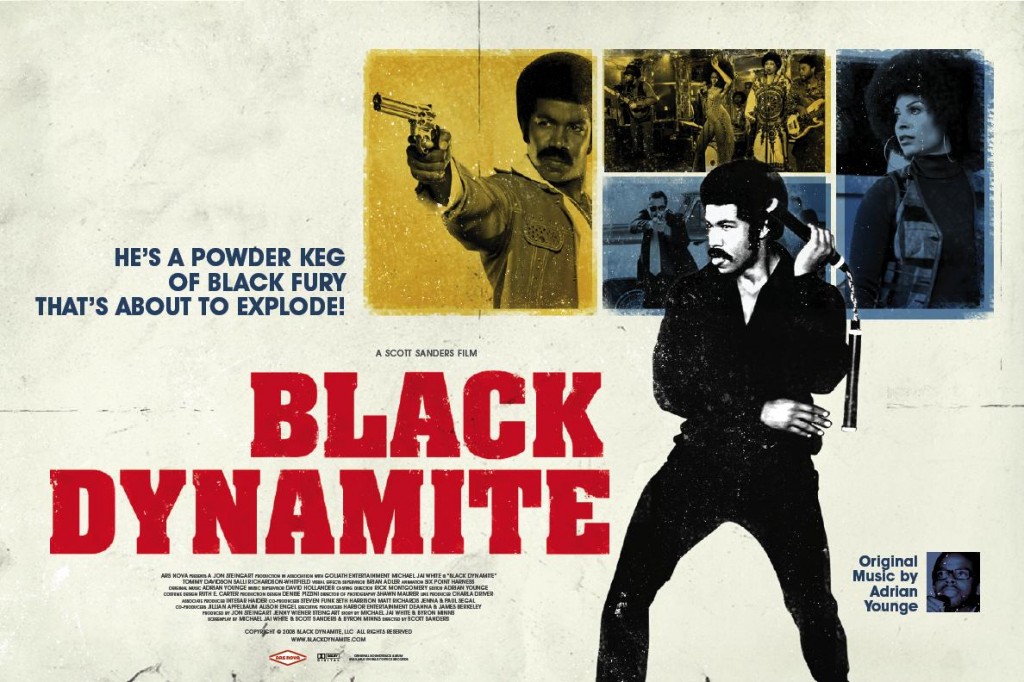 The Red Band Trailer for Black Dynamite. This is the story of 1970's action legend Black Dynamite. When "The Man" murders his brother, pumps heroin into local orphanages, and floods the ghetto with adulterated malt liquor, Black Dynamite is the one hero willing to fight all the way from the blood-soaked city streets to the hallowed halls of the Honky House.
Check out the entire press release below —
---
FOR RELEASE ON AUGUST 25
SONY PICTURES WORLDWIDE ACQUISITIONS GROUP ANNOUNCES APPARITION TO RELEASE BLACK DYNAMITE
Blaxploitation Comedy Starring Michael Jai White to Hit Theatres October 16
Culver City, CA – August 25, 2009— Sony Pictures Worldwide Acquisitions Group today announces Apparition will release BLACK DYNAMITE in the U.S. on October 16. The announcement was made jointly today by SPWAG President Steve Bersch and Apparition's Bob Berney.
Directed and co-written by Scott Sanders, the film stars Michael Jai White as Black Dynamite, a gun-toting, nunchuck-wielding, ladies man willing to fight all the way from the blood-soaked city streets to the hallowed halls of the Honky House. Rounding out the supporting cast are Tommy Davidson ("In Living Color"), Byron Minns (Undisputed), Arsenio Hall (Coming to America) and Salli Richardson – Whitfield (I am Legend).
"We knew we had a clever and intelligent laugh-out-loud film when we bought BLACK DYNAMITE in Sundance. Since then, the film has enjoyed over-the-top receptions on the film festival circuit, and we couldn't be more excited to bring the film to the public," says Bersch.
"Scott Sanders has made a classic: a movie that audiences quote lines from walking out of the theatre," added Berney. "Michael Jai White gives a kick-ass, hilarious performance that shows true knowledge and love of the genre. This one is really fun to be a part of; I discover new laughs every time I see the film."
A hit on the festival circuit, BLACK DYNAMITE won the "Golden Space Needle" Audience Award at the Seattle International Film Festival and played to sold out crowds at festivals across the country including Sundance, Tribeca, CineVegas, Toronto After Dark, The Miami Black Film Festival and The Black Harvest Film Festival.
BLACK DYNAMITE is produced by Jon Steingart and Jenny Wiener Steingart of Ars Nova. Directed by Scott Sanders, the film is written by Michael Jai White, Byron Minns and Scott Sanders and Executive Produced by Harbor Entertainment and Deanna and James Berkeley.
About Sony Pictures Worldwide Acquisitions Group
Sony Pictures Worldwide Acquisitions Group (SPWAG) is a division of Sony Pictures Entertainment (SPE). SPE is a subsidiary of Sony Corporation of America, (SCA), a subsidiary of Tokyo-based Sony Corporation. SPE's global operations encompass motion picture production and distribution; television production and distribution; digital content creation and distribution; worldwide channel investments; home entertainment acquisition and distribution; operation of studio facilities; development of new entertainment products, services and technologies; and distribution of filmed entertainment in more than 100 countries. Sony Pictures Entertainment can be found on the World Wide Web at http://www.sonypictures.com.
About Apparition
Apparition is an independent motion picture distribution company formed by Bill Pohlad and Bob Berney in 2009. Its initial slate includes The Tree of Life, written and directed by Terrence Malick, starring Brad Pitt and Sean Penn, Jane Campion's critically acclaimed Bright Star and The Young Victoria starring Emily Blunt, who delivers a stunning performance as Queen Victoria in the turbulent first years of her reign. The company has an output relationship with Sony Pictures Worldwide Acquisitions Group (SPWAG) for all domestic ancillary rights. Apparition intends to release 7 or 8 films a year. www.apparition.com
For more information:
Staci Griesbach Vicky Eguia
Sony Pictures Worldwide Acquisitions Group Apparition
310-244-6903 818-521-2881
[email protected] [email protected]
###
---