The Fat Ninja Reviews "The Karate Kid" Remake, Starring Jaden Smith and Jackie Chan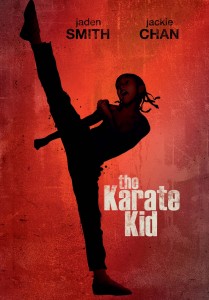 WAX ON WAX OFF  vs. JACKET ON JACKET OFF
In 1984, I was 9 years old.   I went to saw Karate Kid in theaters, and I loved it.  I never thought that I would be going to see the movie again when I was 34.  I walked into this movie almost 25 years later – not too optimistic about this remake.  I figured that if they wanted a new generation to enjoy it, they needed to re-release the original again.  I was wrong…..
This Karate Kid has the same story line. A kid moves from his home town; In the original it is New Jersey, and in the 2010 version it is Detroit. He moves to a new town; In the original it is California, and in 2010 it's China.  In both cases, they move into apartment complexes where they meet the handyman.  They both like a girl who is overly protected by a bully who knows martial arts.  The main character gets over his head with the bully, and the handy man steps in.  We all know the story, and they kept it pretty much the same in 2010 as it was in 1984.  The main differences take place in the locations, and how we arrive at the end battle/ tournament scene.
Think about this: Martial arts/ movie star Jackie Chan is the perfect revision of Mr. Miyagi, the karate master once famously played by Pat Morita. By the same measure, Jaden Smith is the ideal candidate to take on the role of the bullied school kid formerly occupied by Ralph Macchio. I would never have thought those words would have come out of my mouth or onto paper, but they did.  I have to give credit to Smith – he actually learned a lot of Kung Fu in preparation for the role.  Does anyone really believe that in 1984 Macchio could actually do Karate?  On the other hand, I can tell that Smith had learned it, and was taught in real life by a great teacher: Jackie Chan.
[hdplay id=2 width=590 height=375]
Video Review: Fat Ninja Review's THE KARATE KID (2010)
In the end, I really did enjoy this film.  I think that for a remake, it was well done.  There were some problems I had, with one being the running time.  The 1984 version was 126 minutes, and this film came in at around 140 minutes.  I know it is only 20 more minutes, but there was easily that much fat that director Harold Zwart could have trimmed from the movie.  But I must say the 2010 version has entirely better scenery, and the production values are much higher – as they should be 26 years later.  I will still always hold true to my heart, "Wax on, Wax off." But in the same token, I really enjoyed "Jacket on, Jacket off," the new take in this version.  I understand we have seen this all before, but give it a chance and it might just grow on you.  This is what we get for the strike a few years ago;  take a script and redo it. And I must say that it was well done.
I won't tell you how this movie ends.  I always like to give a kids point of view on the kids movies, but I did not take my 6 year old daughter this time around. But I did take my friend who is the same age as I am, and we both walked out of the movie saying that it was a great remake of the classic 1984 movie.  It was a fun time, so make sure take your sons to this movie. If they haven't seen the original, you will be able to see the same reaction you had at their age when you saw the original over 25 years ago. I enjoyed it enough to go see it again, so make sure to check it out!
THE KARATE KID is a B+
FAT NINJA OUT!
[hdplay id=3 width=590 height=375]
The Fat Ninja Can Sing?