The Karate Kid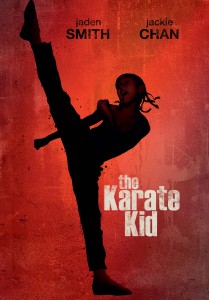 THE KARATE KID is a remake of a classic movie that many of us grew up watching. Whether you were old enough to see it in theaters back in 1984, or you wore out your VHS player watching it, there is no doubt that it holds a special place in many of our memories. Flash forward to 2010. Substitute Ralph Macchio with Jaden Smith and Pat Morita with Jackie Chan, and get a handful of new players, and you have a remake. And it isn't necessarily a bad thing either.
There are several minor changes between this version of THE KARATE KID and the original. Dre and his mom move from Detroit to China, instead of New Jersey to California. So the scenery is much different in this one, and frankly looks much better. Also, no more Mr. Miyagi. Jackie Chan plays a new character named Mr. Han. He does have a car he waxes, but never has Dre partake; in Kung Fu they practice the art of "jacket on, jacket off" instead apparently. Beside from those and some other insignificant changes, the story and scenes are almost identical. Luckily they are done well enough that it makes them interesting to watch again. The change of scenery helps keep things fresh as well. But there is no mistaking that if you have seen the original, you will feel very at home with this movie.
The acting in this movie is better than the original. With that being said, it doesn't mean that the writing is. To no fault of the actors, the dialogue falls flat for the majority of the first act. The beginning starts off painstakingly slow; they spend ten to fifteen minutes just getting Dre and his mom on the plane to China. In the original version, they leave and end up in California before you know it. This formula would have been a much better choice. With the slow pacing, kids are sure to get a little antsy in the beginning. Once they get settled in China, things pick up and get a little more interesting. Jaden Smith is an incredibly charismatic young actor. And what else would we expect from the son of Will smith? Jackie Chan does a great job as Dre's teacher. It is hard to say whether or not he lives up to the iconic role of Mr. Miyagi. But he does a great job, and gets into some pretty deep emotional scenes. This may one of Jackie Chan's best serious acting roles to date. The rest of the cast does well, but the film obviously centers around these two characters.
Once the action picks up, the movie starts to get back to it's roots. The action scenes are well done, and the filming is much better than the original. But it is over 25 years later, so I wouldn't expect any less. Overall, it tells the same great story as the 1984 film, and new audiences are sure to enjoy. If only they could have tightened up the running time a bit, and kept it around or under two hours. But the result of this remake is an enjoyable feature that fans of the original shouldn't have much to complain about.
The Karate Kid is a B-
---
Another take from Aarti: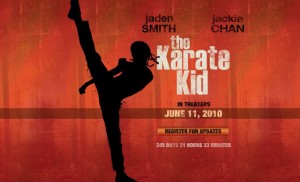 Before I even stepped into the screening, I had an issue with this film:Why is the karate kid doing kung fu?  At one point in the film Taraji P. Henson's character says something along the lines of karate, kung fu, what's the difference?  I had thought that maybe this is what the filmmakers thought of their audience, that we were too ignorant to tell the difference, but I hadn't been sure until they blatantly pointed it out in the movie.  Uh…thanks for the benefit of the doubt Columbia pictures.  As someone who can tell the difference, this was an awful oversight by the studio.  I mean seriously, these are two different things, and they are not interchangeable.
Moving on from the glaring mistake, the first half of the film was mind numbingly slow.  At 2 hours and 20 minutes, that's a lot of down time.  Keeping in mind that this is a children's movie, I'm not sure that many kids can sit through the first half, especially since I had trouble doing it myself. The saving grace for the film was the acting.  Taraji P. Henson was her charming self, Jackie Chan was his charming self, and newcomer Jaden Smith obviously learned acting from his father.  I think we will be seeing alot more of him in the future.
I wouldn't sit through this film again, or at least not the first half.  I realize the the trip to China takes a really long time, but do we have to actually sit through the plane ride?  The movie should have began with Smith and Henson's characters deplaning in China-like the original did in Beverly Hills.  it could have cut the film down by at least 40 minutes.  I wouldn't say that this is a bad movie, but it surely isn't a good one either.
The Karate Kid is a C
---
Another Take By Zac:
The Karate Kid remake is more of in spirit re-imagining but the result is an effective family film that avoids sap, teaches good morals/lessons, and features a couple of great turns by its two leads.
Dre and his Mom are forced to move to China as times are tough in Detroit and if Dre's mom wants to stay employed than this is their only option.  Dre quickly get his eyes stuck on a girl but also becomes the uninitiated enemy of the son of her families close friends.  Dre proceeds to get beat up and grows to hate living in China in quite a hurry.  But when an opportunity arises for the unsuspecting maintenance man to teach Dre how to use Kung Fu it will put him on a path of discipline and help ease him into Chinese society.
Now things are fairly formulaic here, the film feels familiar, but in a good way.  You easily can settle into the picture and enjoy Dre's classic hero's journey starting from nothing and working his way up to that final fight with his nemesis.  But director, Harald Zwart, shows a steady hand, lets his characters develop, and knows who to put the focus on while not over complicating things.  The story is Dre's and his trainer Mr. Han and outside one scene that is revolves around Han's past no scene is wasted unless it contributes to Dre's Chinese coming of age.  That said Zwart does tend to linger for a tad to long on far too many occasions.  None of the dragging is excruciating or horrible by any means, there are just far too many instances where we feel like we are lingering a tad to long in a scene.
What makes most of these moments of unrest easily bearable is the great chemistry between Jackie Chan and Jaden Smith; and Smith's incredible likeability and charisma when he is flying solo.  Chan and Smith just worked so well with each other, whether they were sparring (physically or verbally), imparting wisdom, or sharing an emotional moment; the two are just great to watch.
Chan is particularly surprising and good as he dials down the goofiness and does some honest and solid acting.  Chan even gets to show some emotional range and he handles it very well surprising the hell out of me at his ability to get emotional in a film.  Jaden Smith on the other hand is a marvel at his incredibly young age.  His first lead role and he handles it like a pro.  He seriously rocks as he has swagger, charisma to spare, is full of charm, and kicks some ass along the way.  You never feel like you are watching a child actor labor through a part or role and taking on more than he can handle.  He throws the film on his back and does it with seemingly ease.  Keep an eye on this kid as he could very easily grow up to be as good as his pops, he certainly shows the chops here. Taraji P. Henson does a fine job in her limited work as Dre's mother and she nails her moments when she needs to.  Wenwen Han plays the young romance of Dre's eye and she is just adorable and cute and does a solid acting job as well.  She even creates a nice chemistry with Smith and makes there young romance believable.
The fighting in the film is actually quite limited for a movie called the, Karate Kid, but when it shows up it is just as solid as the rest of the film.  In fact it is quite brutal even at times and you might be caught off guard at how rough the fighting feels.  The early scenes and the tournament especially feel pretty brutal for the film, not that I am complaining, it only helps the film be more affective.
In the end, The Karate Kid is a great family film that everyone can enjoy.  It is a little long in the tooth and formulaic but the actors are so fun and likeable you will find yourself little bothered with either of those complaints.  Jaden Smith proves he is a star in the making here and be ready to sign up your little ones for karate lessons after you get out the theater as the martial arts community is going to see quite a spike in attendance I imagine.  For some fun family entertainment wrapped up with a thoughtful and good natured tale that helps teach lessons you can't really go wrong with The Karate Kid.  Give me more Jaden Smith!
The Karate Kid is a B