Friday Thoughts
The Cardinals had an off-day yesterday after getting broomed out of town by the Dodgers, giving them a little time to lick their wounds before heading to Arizona. There were a few St. Louis-related sports bits, however.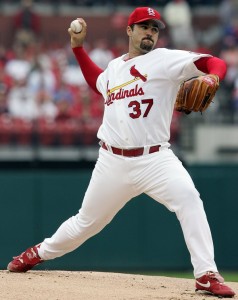 – It's being reported that Jeff Suppan, released last week by the Milwaukee Brewers, is very close to being signed by the Cardinals. The Cardinals are in need of help for the starting rotation, as Brad Penny and Kyle Lohse will both be out for extended periods of time and Tony La Russa's likely to want to lighten Jaime Garcia's workload.
This has the potential to be either a very good or very bad pickup. During his three-plus years in Milwaukee, his ERA rose each year, from 4.62 to 4.96 to 5.29 up to 7.84 this year. It got so bad the Brewers banished him to the bullpen after only two starts. Suppan's never been more than a number three starter, which was why everyone was surprised the Brewers gave him $10 million a year.
On the other hand, since the Brewers released him, they're on the hook for the rest of his contract, with the Cardinals paying only a pro-rated share of the league minimum ($410,000 this year). So he isn't gonna cost the Cardinals a lot. And he had by far the best stretch of his career with the Cardinals, going 44-26 with a 3.95 ERA from 2004-06. Perhaps Dave Duncan can get a few more wins out of his arm, although at 35 that's no longer a safe bet.
– Props to the Rams and San Francisco 49ers for the "trade" that allowed Isaac Bruce to come back and retire a Ram. Bruce spent 14 terrific seasons with the Rams, amassing 942 catches for 14,109 yards and 84 TDs with the Rams. His career totals of 1,024 catches for 15,208 yards and 91 TDs rank him fifth, second, and ninth all time for receivers, respectively. He's not necessarily a lock for the Hall of Fame, but he'll have a terrific chance.
Bruce was a steady leader for the Rams and one of the core players for the Greatest Show on Turf. His touchdown catch in Super Bowl XXXIV cemented his legacy in the pantheon of greats. He was never super flashy; he did his job, worked hard, and expected the same of his teammates.
Kudos on a great career, Isaac. Hopefully the Rams ownership will recognize your contributions and make you a part of the organization once again very soon.
That's about all for now. I'm gonna be covering the River City Rascals quite a bit this summer as well, so if you feel like hitting up a game with me, just let me know. I've actually never been out to a Rascals game yet, so it should be a fun summer.