'Fargo Rock City' being produced by Hold Steady singer and Letterman writer.
Chuck Klosterman is one of the best pop culture/rock journalists out there, but I never imagined any of his books would be adapted into a film. Mainly due the fact that they are mainly non-fiction, and cover broad aspects of pop culture. Although, if were to choose one I guess Fargo Rock City makes a pretty clear choice. This whole project is kind of funny to me. I'm a big fan of The Hold Steady as well, and I would have never guessed that one of their number would be developing a film with a Letterman writer and a journalist.
From THR.com's Risky Business:
---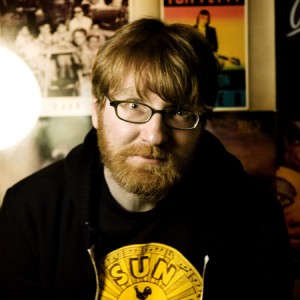 Sex, late-night and rock 'n' roll?
Tom Ruprecht, a longtime writer on CBS' "Late Show With David Letterman," and Craig Finn, frontman of the popular rock band the Hold Steady, are teaming to write and produce the coming-of-age comedy "Fargo Rock City." The duo has acquired rights to the 2001 memoir of the same name by music scribe Chuck Klosterman, who will join the pair in producing.
Klosterman's book tells of growing up in North Dakota as one of the few fans of heavy metal, and his experiences using music to transcend high school nerddom. The 1980s-set screenplay will revolve around a group of high school seniors facing graduation as they try to find success with women and generally break out of their geeky cocoons.
"Seventeen or eighteen is the perfect age for characters in a movie like this, because it's at that age that you have drivers licenses and a certain amount of independence, but you're still young enough that you can totally make terrible decisions," Finn told us. "And you're still young enough that you can have a two-hour argument over whether Motley Crue would beat Guns 'N Roses in a fight."
The pic will concentrate on particular portions of the book, including a chapter in which a faulty ATM dispenses excessive amounts of money to Klosterman, which both Finn and Ruprecht say they see as metaphors of the gilded age and easy credit of both the 1980's and the past few years.
While music is an important theme in the memoir, it won't be featured quite as prominently as it is in Klosterman's writing. "Heavy metal is kind of a common bond among a group of friends," Ruprecht said. "It's the language they speak. But this will also be a universal story of dorky kids trying to be cool."
Ruprecht and Finn are working on the first draft of the script, with the group planning to seek financing from studio and third-party entities when they're done.
Ruprecht, repped by 3 Arts Entertainment, has written for Letterman for more than a decade and is the author of a faux oral history of George W. Bush; he's also contributed to the Wall Street Journal, New York Times and McSweeney's, though we'll try not to hold that last one against him.
Finn sings and plays guitar for the Hold Steady, the Brooklyn rock band that has earned a devoted following thanks to its high-energy shows. He writes many of the act's songs, which contain sharply etched characters and stories dealing with themes ranging from religion and the perils of being a teenager (the latter of which, like Klosterman, he draws from his childhood in the Midwest).
Klosterman is a music writer for publications such as the New York Times Magazine and Esquire. (Another book, "Killing Yourself to Live," his nonfiction account of visiting the graves of dead rock stars, is being developed as a feature by indie banner Half Shell Entertainment.)
Musicians penning movies that aren't about music is a fraught proposition. Most singers turn to acting, and even then, it's with spotty results. (Yes, you, Dave Matthews). But Finn has the storytelling chops and, it seems, the dedication to make a go of it.
---
Generally, I think that most musicians are artistic enough people that they can translate their medium into another. Nick Cave wrote the awesome Aussie Western The Proposition, and it had some really good results. So, I think that there is chance that this could turn out to be good. It has good source material, they just have to keep Klosterman's pop culture senseblities in mind, and his affable humor. I'm just hoping they don't make it into a heavy metal Superbad.