Straczynski to pen 'Shattered Union'
Please name me one movie based off a video game that has been good. Can't think of any? Me either. Well it seems that J. Michael Straczynski is looking to change that. Straczynski who is famous in the world of graphic novels, is starting to become a bigger name in Hollywood after writing such movies as, Changeling and upcoming Ninja Assassin.  Let's hope he can finally bring us a good video game based film.
From Variety.com:
---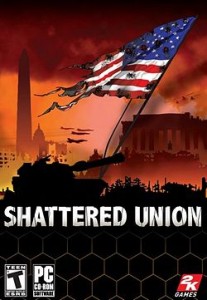 Jerry Bruckheimer is plotting a civil war at Disney, tapping J. Michael Straczynski to adapt 2K Games' "Shattered Union."
In the game, states secede from the U.S. and form their own governments that wage a civil war against each other after Washington, D.C., is wiped out in a nuclear blast and chaos ravages the nation. Players control one of the warring group of states — the California Commonwealth, Republic of Texas and New England Alliance are three of the six — or a European peacekeeping unit sent to reunify America.
The strategy war game, developed by PopTop Software (behind the "Railroad Tycoon" franchise), was published in 2005 by 2K Games, a division of Take-Two Interactive. Take-Two also has an adaptation of "BioShock" set up at Universal.
Straczynski, whose martial-arts actioner "Ninja Assassin" bows Nov. 25 via Warner Bros., is penning a "Silver Surfer" pic at Fox and a "Forbidden Planet" reboot at Warner Bros., and he adapted zombie book "World War Z" at Paramount. He also wrote Clint Eastwood's "Changeling."
His Vietnam War drama "They Marched Into Sunlight" is in pre-production at Universal with Paul Greengrass set to helm.
Mike Stenson and Chad Oman will exec produce the project at Jerry Bruckheimer Films, which is readying "Prince of Persia: The Sands of Time" for the Mouse House to release next summer, based on Ubisoft's vidgame franchise.
---
I haven't played the game, but now I'm want to try it out. Seems like a cool story. It does have the makings of a good videogame story, but I don't know how well it would translate into film. As for videogame adaptations, I'm still hoping the aforementioned Prince of Persia movie is going to be good.