Edison and Metro Theater Company Presenting Adaptation of Lois Lowry's "The Giver" Jan. 7 to 23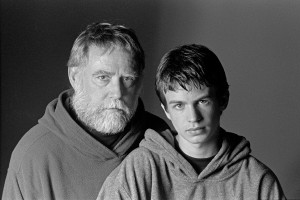 Edison and Metro Theater Company are presenting an adaptation of one of the greatest young adult books ever made. It has been one of my personal favorites for a long time, and a stage adaptation has me highly intrigued. I'm really interested to see how they adapt some of the more visual aspects of the book. Read their press release below for more information:
Twelve-year old Jonas lives in a perfect world — no pain, no poverty, no prejudice, no choices. Everyone has an assigned role. Very, very rarely, someone special is selected to hold the memories of all that once was. Jonas is that one. Does he have the strength to face it?
Readers of all ages have embraced Lois Lowry's The Giver, a classic of contemporary science fiction and winner of the 1994 Newberry Medal. To date, the book has sold more than 5 million copies.
This January, Metro Theater Company and the Edison at Washington University in St. Louis will join forces to produce the St. Louis premier of a powerful stage adaptation by playwright Eric Coble.
Performances begin at 7:30 p.m. Friday, Jan. 7, in Edison Theatre and continue through Jan. 23. Each performance will be immediately followed by a discussion exploring provocative questions raised by the story. The play is recommended for adults and young people 10 and over.
Tickets are $12 to $16 and are available at the Edison Theatre Box Office or www.metrotix.com. Edison Theatre is located in the university's Mallinckrodt Center, 6445 Forsyth Blvd. For more information, call the Box Office at (314) 935-6543 or call Metro Theater at (314) 997-6777.
The Giver
The Giver centers on young Jonas, who has been selected by the elders of his community to become the new Receiver of Memory. The old man known as The Giver has held the memory of all that has been stripped away – poverty, pain, war, strife – and now he must pass on that burden. Little by little, Jonas discovers the community has systematically given up much of what gives life its meaning: Color, music, truth and love. At the end of the story, Jonas faces a decision that will define him and set a path toward hope.
"The Giver is a modern classic that should be read and discussed by any thinking person, regardless of age," says Tim Wadham, assistant director for Youth and Community Services for the St. Louis County Library, which will co-sponsor a talk by Lowry on April 15. "This is a book that brings generations together."
Carol North, artistic director of Metro Theater Company — who directs the cast of 11 — notes that, "I am approaching this transformative play with all the respect and humility it deserves. Each of us at Metro and at Edison want the profound message of The Giver to reach all who see it."
Charlie Robin, executive director of Edison, concurs. "While this story was new to me, I was thrilled to discover the excitement and impact it has had on the younger generations over the past 17 years. This engaging tale asks all the right questions and provides a forum for discussion that will keep us all talking for years to come."
The cast is led by Nicholas Kryah, resident artist and technical director at Metro Theater Company, in the title role; and by Mitchell List and Christian Probst, who share the role of Jonas. (On Jan. 22, during the run of The Giver, Kryah will celebrate the 5,000th stage performance of his remarkable 34-year career.)
Completing the cast are Stephanie Strohman, David Wassilak, Elijah Brown, Sydney Dorton, Berklea Going, Stephanie Koo, Ian Miller and Anna Nielsen.
Music is by composer and percussionist Lance Garger, a guest artist with Metro Theatre. Choreographer is Beckah Reed. The design team includes Lou Bird, Dunsi Dai, Stephanie Strohman, John Wylie and Rusty Wandall. Sarah Rugo is production manager.