Easy A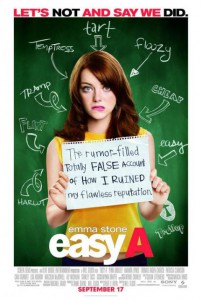 They just don't make teen comedies like they used to. That is, until now. Films like "The Breakfast Club" and "Fast Times at Ridgemont High" are among the classics, which we will continue to watch and cherish as time goes on. And now some might argue that "Easy A" could be the latest film to join the club.
Olive Penderghast (Emma Stone) is a bright, quiet high school student who generally stays out of trouble. Olive always seems to come in under the radar, until the day that a nasty rumor spreads around the school that she has lost her virginity to a college guy. Embracing the story, and enjoying the attention that comes along with it, Olive builds a reputation for herself that eventually leads to more lies. Soon she finds that she can help make life easier for some of the less popular kids around school, by simply spreading more rumors. Eventually things get out of hand, and Olive is left to deal with the monster that she has created.
Emma Stone is delightful as the lead in "Easy A." She pulls off the role as the smart, sophisticated high school student without a hitch. Part of the reason that the film is so enjoyable is due to the great casting. Olive's parents are played by Stanley Tucci and Patricia Clarkson, who steal most of the scenes in which they appear. Olive's favorite teacher, Mr. Griffith, is played by Thomas Haden Church. The actor plays another character who is just as enjoyable to watch, as he interacts with the students and tries to maintain order during Olive's wild exploits. Even the principal is played by none other than Malcolm McDowell, who embodies the spirit of Principal Vernon from Schermer High School.
At times throughout the film, it seems that it is trying a bit too hard to be clever. But failing less often than it succeeds, it is paced well for an enjoyable movie-going experience. After a bit of a slow setup, the movie kicks into gear and keeps your interest pretty much throughout. The story is definitely original enough to peak interest in the subject matter, and the characters make watching it downright fun.
"Easy A" is easily a B