DVD Review Friday – "Ong-Bak"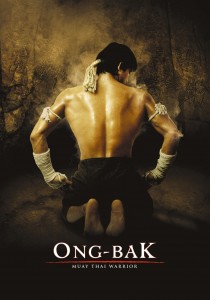 Directed by: Prachya Pinkaew
Cast:
Petchtai Wongkamlao
Tony Jaa
Pumwaree Yodkamol
We've seen this plot a thousand times. The head of a sacred statue gets stolen from a small Thai village and Ting (Tony Jaa) must go on a bone-breaking spree to get it back with the help of an ex-member of the village named Dirty Balls (Petchtai Wongkamlao). Yes, his name is Dirty Balls, but I digress. Ok, so maybe we haven't seen that before but it certainly fits the martial arts mold of A(sacred object/sensei/loved one/wife) is lost or killed and B(holy man/pacifist/quiet nerd learning martial arts) must then unleash the hounds of hell via his/her fists in order to C(avenge something/regain honor/take back object). It's sad that I just described all of my favorite martial arts movies right there. Luckily I don't judge them on the same level I judge "Goodfellas" or "Schindler's List". I judge these types on entertainment value and whether or not the acting and story make me want to pray for death.
As for praying for death is concerned, that was not the case here. It probably helps that the whole movie is in Thai so judging the acting was a formidable foe. Upon a second viewing I will say that the acting is just as good as you would expect from a movie like this. It's no better and no worse. The plot isn't easy to sympathize with. Being a Westerner it's difficult for me to identify with the various East Asian religious beliefs. I have seen the movie several times and I still have no idea why the bad guy is running around stealing the heads of sacred statues and to be honest I don't really care. As an American martial arts fan the various plot points are of little concern to me. If movies like this were watched for plot, martial arts movies would cease to exist. That is why I recommend watching this with subtitles and not the dubbed version. The dubbed version just sounds silly and takes away from the action. At least with the subtitles, if you feel the story is horrendous, you can just watch what is happening on screen and figure it out as you go. I promise this doesn't have any M. Night Shyamalan twists to it.
This movie does offer something to set itself apart from other genre films like this. The stunts and martial arts are like nothing you have seen in recent years. Anyone that has seen an action movie in last 10 years knows that Hollywood loves a good ol' shaky cam during a fight. By the end of the fight the viewer is so discombobulated that they have to stop and actually mentally regroup to see if the good guy won. Not here, folks. There are no wires and no gimmicks. The foot chase scene is simply incredible and is some of the best stunt work you'll ever see. I still have no idea how some of those stunts were physically possible. As far as the fight scenes, we're talking wide angle, single shots of Tony Jaa kicking, punching, and kneeing stuntmen in the head. In slow motion even. And just in case you missed it they will replay it for you two or three times.
That just leads me to one of the few complaints I have about this movie. I fully appreciate the work and effort that was put into each painstaking stunt but I don't need to see it three times in various speeds. I can see maybe once or twice but it was used just a little too much for my taste. Also, the movie clocks in at 105 minutes. I don't think a martial arts movie should ever extend beyond 90 minutes given what its sole purpose is. At least that applies to modern martial arts films. In the end, however, it is all worth it just to see some good old fashioned action without feeling like you just had a seizure from the camera work. Paul Greengrass and Christopher Nolan can take note here.
---

---
Disclaimer: I am reviewing the Red Sun Special Uncut Edition which I had imported. This is not the American release.
Audio/Visual
Audio: Dolby Digital 5.1 and English subtitles. The American release of the movie offers higher quality audio and the subtitles have a much better translation.
Video: 16:9 Anamorphic Widescreen. The video is much sharper in the American release of the film
Special Features
Ja Panom's Fight Choreographic: This is a sequence of hand drawn pictures shown in cartoon form doing Muay Thai moves. It's pretty boring and you can see the real deal in the movie. I say skip it.
Ong-Bak's Easter Eggs: Prachya Pinkaew talks about the easter eggs in the movie. It is completely in Thai so I'll sum it up for you here. About 40 minutes into the movie "Hi Speilberg Let do it together" is written on a garage door behind the action. Also, during the taxi chase scene "Hi, Luc Besson, we are waiting for you" is written on one of the pillars.
Storyboard Comparison: This feature shows storyboards/live action practice runs juxtaposed alongside the same scenes in the movie. This is actually pretty cool. It's not too long so it's worth a viewing.
3D Animatic Comparison: Once again Prachya Pinkaew discusses the taxi chase scene using 3D animatics. Unless you speak Thai I would skip this.
Deleted Scenes: There aren't any subtitles here so it's hard to tell what is going on. It seems to be scenes with more character development so I am glad they dropped these. They would have been an unnecessary addition to the movie.
Alternate Ending: The only thing different about this ending is Dirty Balls lives and goes back to the village.
Casting & Audition: I assume this is the casting director speaking here but it is hard to tell because it is in Thai. It features two auditions and neither is of the main characters so you won't miss much if you leave this one alone.
Demo Scenes: This is a really cool little sequence. It shows Tony doing dry runs of some stunts in the movie and it essentially plays out like a slideshow of stuntmen getting kicked, kneed, and punched in the face. Those are some dedicated stunt workers right there.
So is it worth buying?
If you're looking for this movie in all of its bone crunching glory I would recommend this edition. From I can tell the only things missing from the American version that I saw are pretty nasty arm, leg, and skull breaks. If those three are of no concern to you and you want something that looks pretty and has sound to match then the American version is probably a little more your speed.