Watch A-Team Movie Trailer – Back Online!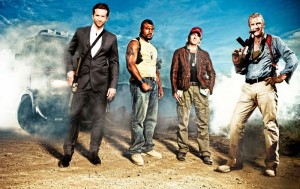 The A-Team cast is basically a group of people who have transcended where they were in pop culture in the past couple years. Bradley Cooper has made his way onto the A-List with The Hangover, Liam Neeson had international hit Taken (and an unfortunate family loss), Sharlto Copely gave an eye popping performance in District 9, and Rampage Jackson is a UFC fighter who is embedding himself in arenas outside of the sport. So, this movie has plenty of star power, but will it have the chops to be a big summer blockbuster? I'm thinking it will be ridiculous action that will be great for a summer popcorn flick
Synopsis:
A group of Iraq War veterans looks to clear their name with the U.S. military, who suspect the four men of committing a crime for which they were framed.
Cast: Liam Neeson, Bradley Cooper, Quinton "Rampage" Jackson, Sharlto Copley, Jessica Biel
Director: Joe Carnahan
Genres: Action Thriller, Action
Release Date: June 11, 2010
The current trailer is extremely lo-res. It will be replaced with a hi-res version when available. If you would like to see the trailer in full theater glory it should be playing before Daybreakers.