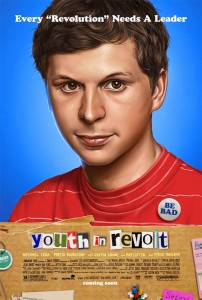 Michael Cera returns as Nick Twisp in the new movie Youth In Revolt.  The film, based on C. D. Payne's 1993 cult novel of the same name, has been in development hell for over a decade.  (MTV tried to turn the book into a television show in 1998 and, subsequently, held the rights for many years.)  Twisp is a shy but quick-witted teenager who is frustrated with his surroundings.  Think Holden Caulfield's more polite little brother.  His mother Estelle (Jean Smart) is an aging sex-kitten coasting on her looks…with rapidly diminishing returns.  Meanwhile his father George (Steve Buscemi) is obsessed with trophies, whether they take the form of his car, his home or his wife.  While visiting a mobile home park, Nick encounters Sheeni (Portia Doubleday), a French-film loving girl seemingly tailor-made for his particular brand of teen angst.  After recognizing that his timid demeanor won't win her over, Nick creates an alter ego in the visage of Francois Dillinger: a mustachioed, antisocial delinquent who is as full of self-assured swagger as he is foul-mouthed snark.  As Twisp begins taking Dillinger's advice (Cera sharing the screen with himself), he quickly amasses a string of felonious misdeeds in an effort to win the heart of his dream girl.  [morelink]
Increasingly taken to task for the similarities in his performances, Cera is allowed to shine as Dillinger, a character whose crude self-confidence allows the actor finally play against type, if only sporadically.  While the film is a quirk-filled hipster-fest, it largely works as director Miguel Arteta (The Good Girl, Chuck & Buck) uses Dillinger sparingly; wisely preventing the film from devolving into Rushmore meets Fight Club.  Nick's attempts to impress Sheeni cut a path of destruction across the landscape.  But Cera grounds the character in such a way that his decisions, no matter how dumb, seem just this side of irrational.  His performance is something of a sucker punch.  He's so likable that it's not until the second half before we come to the slow realization that we just might be rooting for a stalker.
Youth In Revolt somehow manages to be a dark satire yet light as air.  Though at times, it feels as if the film is trying to do too much: hipster chic, indie cred, quirky animated sequences.  It all begins to feel a bit hodgepodge and only serves to keep the audience at arm's length.  It's almost as if the filmmakers are looking to bypass the "box office" phase and go straight to "cult classic."  The pacing gets a little slow in the second half, but Cera saves the day.  He manages to be both charming and, surprisingly, a little bit dangerous.
On a scale of 1 to 10, with 10 being Rushmore and 1 being College, Youth In Revolt gets a 7.