'Zombieland' Writers Attached To Write 'G.I. Joe' Sequel and 'Deadpool'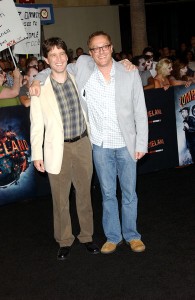 Rhett Reese and Paul Wernick are finding out what happens when you are the writers of a successful film. They have been tapped to write the spinoff of a spinoff film Deadpool, starring Ryan Reynolds.  They have also apparently been tapped to write the sequel to G.I. Joe: Rise of Cobra.
Reynolds will be reprising his role originated in last summer's X-Men Origins: Wolverine. Deadpool is a wisecracking mercenary who becomes the outcome of a program to create a new supersolider who contains the abilities of multiple mutants. The film version is a much different character than the comic book character Deadpool.  Wernick and Reese are expected to bring the character back to its roots, and rely much more heavily on the mythology of the comic book character the film will be based on.
Most likely Deadpool will not be shot until next year after Reynolds is done with his Green Lantern project. Release date will probably be sometime in 2012.
So far, it is just rumored that Wernick and Reese are working on a G.I. Joe sequel, but multiple sources are claiming it right now. Hopefully this would take the series in the right direction, and build a better film than it's previous incarnation.