DragonCon 2019: A Weekend in Review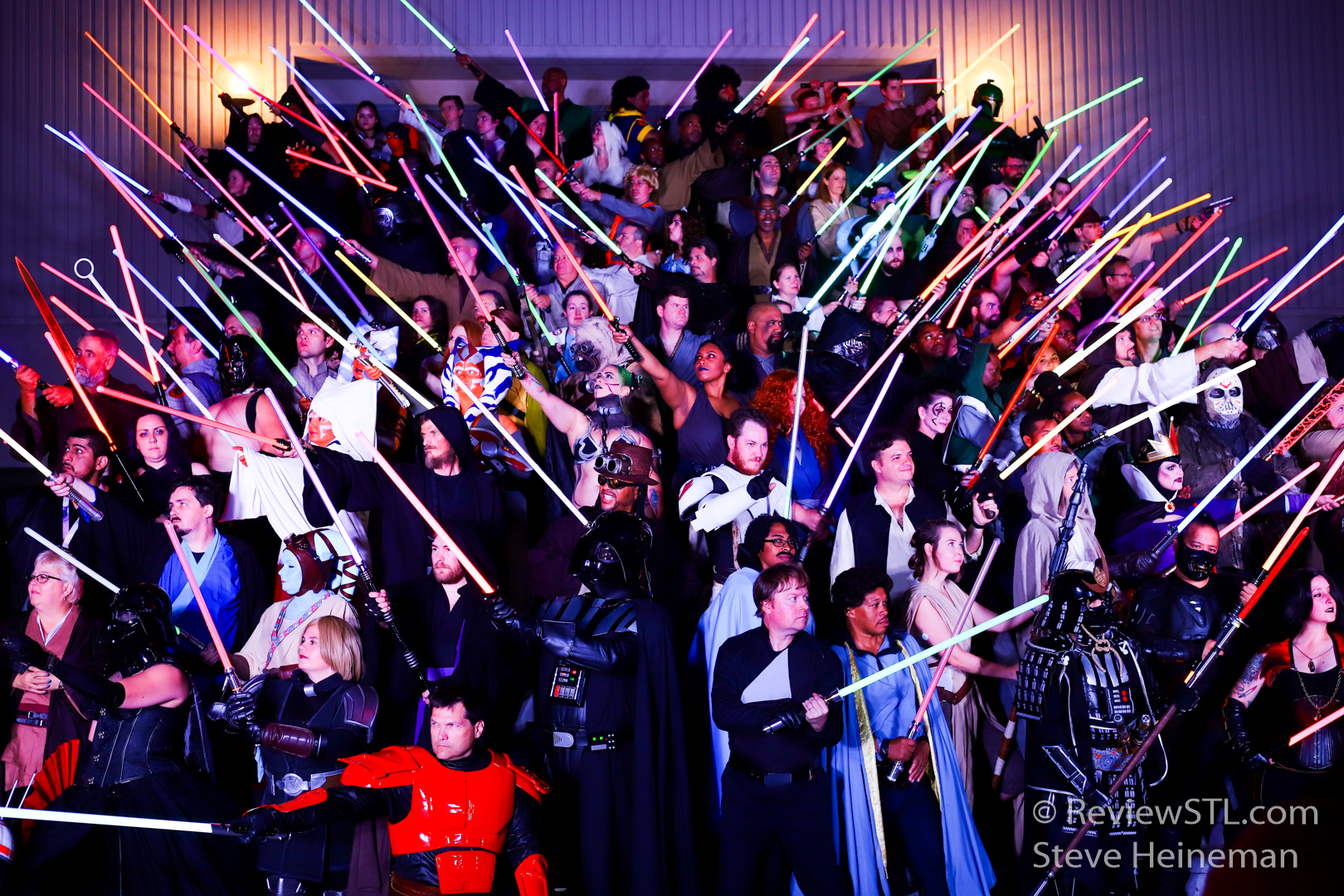 SUNDAY
The weekend had accumulated into a very groggy morning for me and the rest of my room crew. None of us were conscious before 11:30 and we had barely started moving by noon. This is a pretty common occurrence at cons. No matter the convention, Saturday is always the biggest day. When you already had two days of partying going into Saturday, Sunday is bound to be rough.
It's good motivation for my Vault Dweller though. The goal is to make myself look as bad as I feel! I tried a few new things this time, using a liberal amount of rigid collodion (for the scars) and opted not to use the coagulated blood gel, but rather some shading to give the appearance of wet blood. By the time I set out for the day, I looked like I had just stepped out of the wasteland. I have to say that at this point, I've gotten pretty good with the wound effect makeup.
Our first objective of the day was the 40 Years of Aliens meetup and photoshoot. Annie was going to be there dressed as Vasquez and we absolutely did not want to miss it! As a photographer, I wish I could get a room in the Hilton. The majority of the stuff I wanted to do over the course of the weekend was there. Luckily it's a pretty short walk via skybridge or on the street. With my camera now looking ashy from Pumat's body paint and a cup full of Nuka Cola, I walked out onto the Hilton patio with a decent-sized group of ultimate badasses. In addition to Annie's Vasquez, there were a whole lot of colonial marines, Nostromo crew (including Stormy as a very bloody Kane), and even a couple of Xenomorphs! 
During the shoot, Annie had broken off a piece of her gun. Fortunately for her and a whole lot of other cosplayers at DragonCon, there was a crew of Cosplay Medics set up in various locations around the convention. While I provided some much-needed water, they provided a quick fix for the handle on her smart gun. I didn't have to request assistance all weekend, but I want to give a huge thanks to the whole crew of Medics at DragonCon that helped out with all the cosplay emergencies. I'm sure they saved more than a few asses that weekend.
Stormy and Ted went on ahead of us back to the Marriott where we would do another portrait session. Annie expertly maneuvered her smart gun through the crowd while I followed behind, stopping for a few photos here and there. There was not enough space in their hotel room to properly pose with the smart gun, so we took the backdrop and lights out to the hall in front of the stairwell entrance. Since we were near a large window on the sunny side of the building, it got quite hot in a hurry. Jarod Kearney (@jarodkearney) and I got some great shots of Annie's Vasquez as well as Stormy's Fallout raider costume. Ted used my camera to get some badass photos of my Vault Dweller as well as a few of Annie and I together. I know it's a weird crossover, but I'd kill some aliens with Vasquez any day! 
As the sweat began to consume us, Justin finally showed up to take some photos as well. Annie left to take a few laps around the lobby in her costume while we continued for a few more shots. With the Fallout shoot quickly approaching, I decided to head back to the room for a quick rest and a much-needed reapplication of deodorant. Don't be afraid to apply more deodorant in the middle of a con. It's better than offending the noses of everyone you pass!
After refreshing myself and reapplying some of the makeup I sweated through, it was time for the Fallout shoot! I got back down to the Hilton patio to immediately find Desiree in her Vault Suit as well. We first met through our mutual love of Fallout and after at least a year of knowing each other, we were finally in our Vault Dwellers together! I also met up with Will, Stormy, and Ted all in their Fallout gear as well. The four of us have been playing Fallout 76 since it launched, streaming on the Average Calamities Twitch channel. This was the first time we were all together in person, so we absolutely had to commemorate the occasion with a selfie! 
The turnout for the Fallout shoot was incredible. It absolutely beat the last time I was at DragonCon. The Vault Dwellers made a sea of blue when we all took to the steps for our group shot. Unfortunately, I didn't stick around for all of it though. Stormy, Ted, and I were all feeling the hunger and decided it'd be a good time to regroup with a few others and make some dinner plans. By the time we got back to their hotel room, another attempt at Gus's was our goal.
We took a quick room break with Jenn and Sergei and shared stories from the day before heading down to meet up with James for food. Jenn and Sergei retreated back to their hotel for their own dinner plans, but we were set on fried chicken. Gus's has a location in St. Louis, just down the street from my apartment, so I was really looking forward to giving them a shot. The wait was understandably long. It was packed from the moment we got there. We decided to get our food as carry out and take it up to the food court to find a table. After an unlucky walk through the food court, I decided to take my food back to the room. This was when I had my first real problem with an elevator ride.
Elevators were packed full of people all weekend. Every trip needed to carry as many bodies as possible. Most people understood this, but some insisted on declaring what was and wasn't a full elevator. In at least one case, this resulted in an angry individual attempting to deny someone entrance to an elevator that could have fit at least one more person. In this case, it almost resulted in a broken elevator. I got on with my food in one hand and my camera in the other. We had very little room left as we started to go up. Then the door opened on the Atrium Level. An obviously drunk woman tried to cram about four more people onto the elevator, shoving me and the others back into the walls. This resulted in the elevator shifting downwards about four inches and the elevator's occupants screaming at her. One poor girl almost had a panic attack and had to get off after the woman pulled her friends back. Here's a life lesson for anyone in that woman's situation… patience goes a long way! It's much better to wait a few more minutes for an elevator than put people in danger.
When I finally got back to the room, I peeled off most of my vault suit and recklessly devoured my meal. I should have taken it slowly, but damn it was so good! I barely even noticed Tom, Justin, and James make it back to the room. As a result of the long sweaty day and the sudden introduction of a whole bunch of food into my system, I was down for the count. It wasn't even 9pm and I already was ready for bed. As the others got ready to go back down to the lobby, I laid down on the bed to let my body process everything I had just done to it. I didn't want to call it a night just yet because it was the last night of the con and still so many people I wanted to see… but I let sleep take me for a short nap.
I came back to consciousness at about 11pm just before Tom reentered the room. He had once again been trying to cosplay as Justin, but couldn't get away with it while Justin was there earlier. Tom gleefully threw on some of Justin's clothes and left the room again as I took a shower. I wanted to get all of the sweat and body paint off of me before I did anything else, unsure whether or not I'd rejoin the party. My body had suffered, but my spirit was still high. I took a very long, very hot shower and when I stepped out… I felt a thousand times better.
By the time I left the room again, Tom had texted to let me know everyone was at the Hilton patio. For the third time that day, I made the walk over there. I saw a few familiar faces along the way, finally greeted by the Carr brothers, Tom, Justin, James, and Niki all having a blast on the patio. I stayed with them for a few minutes before they told me that Annie had been looking for me. They said she wanted to come wake me up while I was taking a nap. While I'm sure that would have been hilarious, I can only imagine the horrifying scene they would have walked into while I was napping in the room.
Since I was hoping to see Annie as well before the end of the night, I went back to the Marriott to look for her. I ran into the North Carolina con family on the way, giving plenty of hugs and saying goodbyes in case we didn't see each other again that night. Of course I walked the wrong way around the Marriott lobby and made almost a complete circle around it before finding Annie by the Papa John's stand. My voice was almost gone from shouting over crowds all weekend so we walked down to the lower level of the Marriott where there were considerably fewer people. I enjoy going to parties, but I'm an introvert in most aspects. I value a strong connection with someone far more than a night of drinking and dancing. It's why these con recaps feature so much interaction with my friends. The conversations I had with Annie over the course of the weekend certainly cemented her place as one of my favorite people. Just about all of my St. Louis friends that attended DragonCon absolutely love her and want to adopt her into our con family.
Annie called it an early night to pack and get ready to leave the next day, so I met up with everyone else to check out the last party of the night. The Yule Ball was Harry Potter themed but just like every other party at DragonCon, all were welcome! This one was actually in the lower level of the Marriott, so we didn't have far to go. The party lasted well into the early hours of the morning, but we all decided it'd be best to get ahead of the crowd on the way out. I spent the next hour or so packing up everything I could in preparation for leaving on Monday. I believe it was about 4am before we all finally went to sleep.
KEEP READING: MONDAY