DragonCon 2019: A Weekend in Review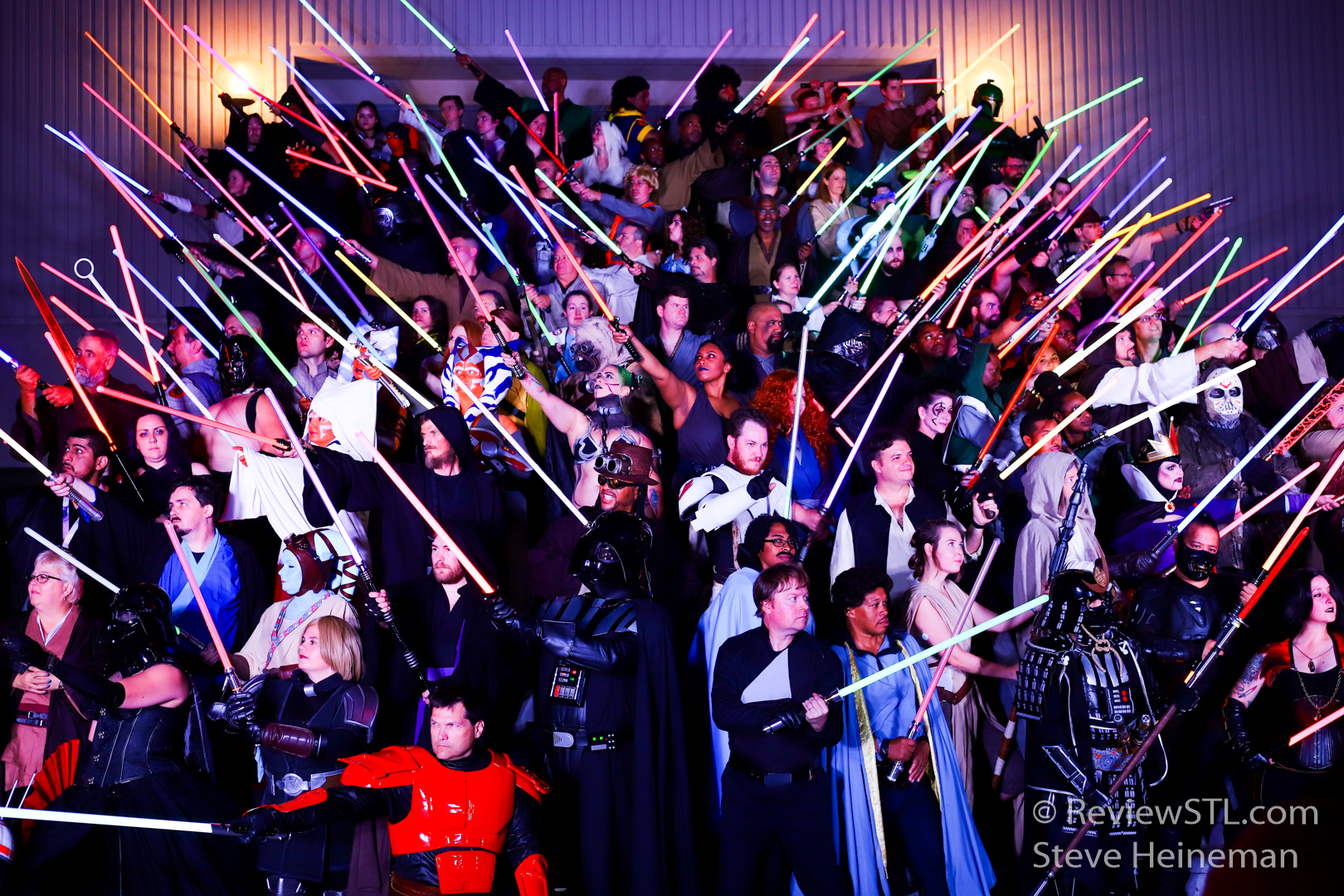 FRIDAY
Due to the lack of sleep the previous night, I decided it was best to take it slow on Friday morning. The first thing I wanted to do this day wasn't even related to DragonCon anyway. The Terrible Trio were unable to attend DragonCon this year, but for very good reason. Hannah and Sarah were in Seattle to attend PAX West, where they showed off their epic Charr costume at the Guild Wars 2 preview panel. James and I found an open spot in the Marriott lobby to watch the live stream on Twitch while I took photos of cosplayers passing by.
A friend we made at Gen Con, Alex (@aleestudios) found us and chatted for a bit on her way to a busy day of photo sessions. Her schedule was packed all weekend so I'm very glad we got a few moments to catch up. More friends came and went as we watched the live stream, including Jenn and Sergei. Jenn was dressed as Aziraphael from Good Omens, which had quite the following at DragonCon this year. By the time the stream was over, we decided it would be a good time to have our first meal of the con.
One of the great features of DragonCon is the food court. The host hotels pretty much surround the Peachtree Center, which houses a rather large assortment of food options. Last time we were at DragonCon, we had a whole lot of meals there. This time, we really only had one. Another pro tip: EAT FOOD AT CONS. I survived on snacks for the majority of the weekend and my body is punishing me for it. When I did have actual meals, they wrecked me. Friday afternoon was my first experience with this.
Despite the thunder down under, we walked around the Marriott lobby until my next planned event for the day… the Mortal Kombat meetup & photoshoot. While walking through with Justin, Tom, and James, we saw plenty of old friends including Brandon and Fred of Fire Forged Cosplay. These two are a hell of a lot of fun to hang out with, and we hadn't had many chances to see them since Brandon moved away from St. Louis. Brandon was dressed in his impressive Heimdall cosplay while Fred, his girlfriend Mandy, and their friend Mary Lou drew a dancing crowd with their stereo pumping some sweet jams.
Then I met someone that would very quickly become one of my favorite people. A familiar face approached me in the crowd, eyes already lit with recognition. It took me by surprise, because people usually don't recognize me unless they meet me in costume. As soon as she greeted me, I remembered her. The evening before, I had taken a photo of an amazing Furiosa cosplay. Even without the face paint, I recognized her bright smile and energy. She introduced herself as Annie Graves (@anniegraves.cosplay), which I immediately typed into my phone. The impressive work I saw on her Instagram immediately got a handful of likes and follow from me. I absolutely had to give her an Average Calamities button, which she wore proudly over the rest of the weekend. 
We spent a while chatting about the con and her costumes. I came to find that it was Annie's first DragonCon! She came in not knowing too many people, but was quickly adopted by all of our St. Louis friends and even some of my North Carolina con family. Her impressive work and beautiful personality certainly left a lasting impression on all of us. We made plans to meet up later in the weekend because she'd be wearing her badass Vasquez costume for the Aliens meetup on Sunday.
By the time 3PM rolled around, I was already having a great day. The stomach wasn't happy with all of the food I forced into it, but it calmed down enough to make it through the Mortal Kombat shoot. I just have to say as a long time fan of the franchise, the turnout for this meetup was absolutely badass. Among the deadly fighters in attendance were my new friend Mandy dressed as Kitana as well as fellow St. Louisans Rachel Petty and James Wulfgar dressed as Kitana and Kano respectively. I captured as much of the awesome as I could before the tides had turned.
Despite the fact that it was loud into the late hours of the evening and waiting on an elevator could be a pain at times… it was nice to be able to retreat back to the room whenever I needed to. I took a much-needed break in the room to relax and recover before making my way down to the Hilton for the next photoshoot I wanted to attend. Unfortunately I got a bit sidetracked and showed up just as the Borderlands shoot was ending. It was there I met the Carr brothers, seeing Mike Carr dressed in his new Hercules costume. While it was an epic costume, Mike was suffering a bit from the headpiece squeezing on his forehead. I hadn't planned anything for the next few hours, so I followed them back to their room in the Marriott for more snacks and a rest.
We recapped the events of the day so far, then a headache forced Mike to take a recovery nap. Chris and I paid a visit to another St. Louis friend, Kate (@Spring_Steel), to drop off a present he'd bought for her. She was kind enough to make us some sandwiches while we were in her room and we were soon joined by SKS and Scott who also were looking for a break from the lobby. It was great to catch up with all of them. Steve gave me a couple of his new stickers and we chatted briefly about my HD Foam needs. (Wizible is considering using some of it in our new mobile escape room build, but keep that quiet. It's a secret!)
In the late afternoon, I made my way back to the Hilton. Friday is the day of Star Wars shoots, and I really wanted to check out a couple of them. First was the Cosplayers of the Old Republic, which is a group I hope to be a part of when I finish assembling the Darth Malak costume I've been planning. They already noticed me before Star Wars Celebration when I posted photos of my brother's Revan mask that I had painted and weathered, and I was very pleased to meet the people who ran the group.
I met Christian again there, which was actually the first time I think I had seen him with NO face paint on! We had a good laugh about it, because several others made the same comment. The Hilton patio was also where I got to talk with Art and Niki, a couple other friends from St. Louis, for the first time since I'd been there. Art was in his extremely impressive Dr. Strange while Niki sported her ridiculously cute Batwoman pinup costume. These two do some seriously awesome work and are so much fun to hang out with. I am certainly looking forward to seeing them again at another con soon.
The Star Wars shoots were a lot of fun, even though I opted not to bring my blind Jedi this year. I figured with both Pumat and the Vault Dweller, I would have more than enough time in costume. Not to mention packing another costume meant I probably would have had to bring a whole other bag in an already full car. My camera was all I needed on Friday night as dozens of lightsabers lit up the Hilton patio. 
The rest of the night was a blur of fun people and parties. Tom and I found more of our St. Louis friends, Kathleen and Brian, and shared a few drinks. They tried my Nuka Cola while we tried Brian's apple pie shots. I could have hung out with them for much longer, but the crazy sights quickly led Tom and I on another photo chase. I know there were talks of plenty more dance parties, but most of us were happy to just hang out in the lobby of the Marriott. Niki even tried to literally drag Annie into one of the raves, but she had forgotten her badge and was happy just to hang out with everyone somewhere we could all talk.
Tom, Justin, James and myself all made it back to the room at about the same time where we recapped the day and discussed plans for the next… which would be the biggest of the whole weekend.
KEEP READING: SATURDAY