DragonCon 2019: A Weekend in Review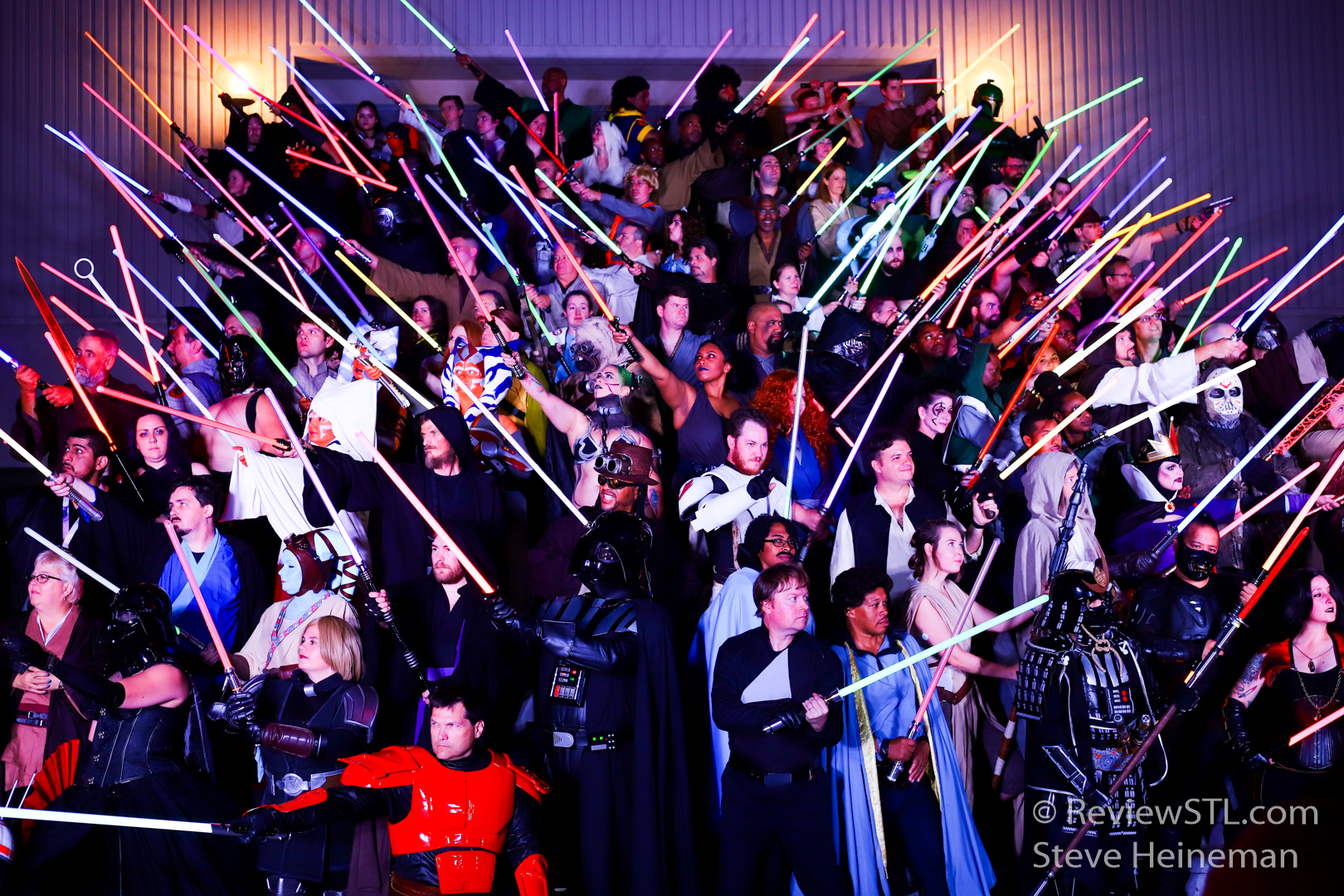 Let's be honest… no amount of words I write will ever be enough to capture the magic and wonder of this convention. Literally every time you think you've seen the craziest or most obscure costume you've ever seen, the next corner you turn proves you wrong. DragonCon is known among the community as the Mardi Gras of comic cons. Five hotels house thousands of joyful geeks, all coming together to share in the love of all things nerdy.
This year's DragonCon came with hesitation. Over the past year, I've made some upgrades. I got a new car, moved into my own place for the first time since college, and helped launch the Wizible mobile escape room. I thought that the introduction of all these new things meant that I needed to slow down on my hobbies. Going to cons, assembling costumes, painting miniatures, playing video games… while they're all so much fun, they do take up a whole lot of time and money!
Star Wars Celebration, while truly awe-inspiring, was by far the most expensive convention I have ever been to. I wouldn't trade that experience for anything, but it left a serious scar on my bank account. Gen Con did the same since I assembled and debuted my first character costume, Pumat Sol. Also when all of your favorite tabletop game creators and are in one place, it's really hard to avoid buying things.
Luckily I didn't have that problem with DragonCon. I was a bit worried that I'd be sucked into the 4-story vendor hall and blow through all of my money on nerdy things… but I came to realize that the experience itself was worth far more than any souvenir I could buy. Sure, I love to pick up witty shirts or epic art pieces, but DragonCon was more about the people. It's more of a massive, early Halloween party than a traditional convention.
Despite the fact that I entered Atlanta with uncertainty, I had an unforgettable weekend with some truly wonderful people. The friends I got to share this experience with, both old and new, made the 8+ hour drive more than worth it. Before I get into the daily recaps, I want to say thank you to ALL of the people I met and spent time with at DragonCon. You all made this a breathtaking weekend and one of the best chapters in my story.
THURSDAY
While Thursday was the first day of the convention, the story really starts on Wednesday. I had been scrambling to get everything ready for the trip down when I realized that the (not so white anymore) shirt I had for Pumat just wasn't getting clean. I stained it like six different colors at Gen Con and it looked terrible. PRO TIP: standard bleach has no effect on polyester. So I had to replace it. Cue Johnnie Brock's Dungeon, the Missouri-based Halloween store, which had a pirate shirt that worked perfectly for my firbolg enchanter. Nothing like fixing a costume the day before you leave for one of the biggest cons of the year!
Before dawn on Thursday morning, we set off on the road. Tom Ricks and Justin Staggs, half of our room's occupants, were already down there to visit Justin's mom just outside the city. James Reese and I picked up another STL friend, Joel Doetsch (@thatpetdetectiveguy), and absolutely packed my car full of stuff to bring down for our other friends and Joel's roommates for the weekend, Mike Coker and Kevin Schoemehl. They flew down to Atlanta and had a lot that couldn't get onto a plane. Another tip to cosplayers going to huge conventions… plan your costume lineup accordingly. If you have some props that wouldn't make it onto a plane, you may want to consider just driving. I know people that have also shipped their costumes and props to the hotel ahead of time so it would be waiting when they arrived. It may be pricey, but showing off your epic costumes at the biggest nerd party of the year is definitely worth it.
The drive down to Atlanta wasn't too bad. A few delays due to accidents dropped us a little behind schedule, unfortunately leading us right into rush hour traffic as we entered the city. Atlanta has some of the worst traffic I've ever seen. It took us over an hour to get from the edge of the city to the hotel. It was pricey, but valeting my car was totally worth it after 8+ hours of driving. Luckily the drop-off area in front of the Marriott was relatively open so we didn't have to wait for assistance. A bellhop brought a cart and helped us unload immediately. Then, we got our first taste of the elevator game. This was something that everyone in the Marriott experienced over the course of the weekend.
has almost 50 floors worth of rooms. It's so many that they had to split the elevators into different banks, each going to a different block of rooms. Our room was on the 31st floor, but Joel's was on the 19th… which meant that we had to go up to Joel's room to drop off the stuff he brought, then go back down to switch over and head up to the room where James and I were staying. With all the other people using the elevators, that took quite a while. And the wait time for the elevators only got worse over the course of the weekend.
Eventually, James and I got our stuff set up in the room and ventured out to get badges. I went to the Hyatt where Media Relations was, and he went to the Sheraton to find standard badge pickup. DragonCon Media Relations is probably one of the better ones I've experienced. They have some clearly outlined rules about limitations and very friendly staff. I spent most of my time there talking about Critical Role with one of them. 
From the moment I got my badge, the rest of the night was a party. Even on the first day of the con, there were some incredible costumes on display. My first few steps into the Marriott lobby held some familiar sights. Some of the first people I saw in the Marriott lobby were my friends from North Carolina. Seeing them filled with joy because I hadn't been able to go to C2E2 or Galaxy Con (formerly Supercon) this year. It was the first time I had seen Stormy, Ted, Jenn, Sergei, Chris, Nathan, and Trey since October of last year. I also had a few moments with some of the most talented costume and prop builders the midwest has to offer in the form of Steve (SKS Props), Scott (Wildkarde), and Will (DLC Props). 
The biggest event of Thursday was the Bunny Hutch party, where many cosplayers would don Playboy Bunny versions of characters. Jenn (@Jenna_Say_What) was wearing a bunny version of Marilyn Monroe while the Carr brothers (@carrbrosprops) wore bunny versions of their Saiyan costumes from Dragon Ball. So many others were on display both inside and outside of the party. It was held at the Hilton, but the line was so long to get in that many people opted to just enjoy the lobbies. After a long wait in line, I managed to make it in with a few others from St. Louis. I'm not all that into dark dance parties, but I am happy to capture the experience and share it with others. I wove my way through the crowd grabbing what photos I could, then went back to wandering through the lobbies. That's the best part of DragonCon. No matter where you go, there's always something fun happening.
As midnight came and went, the lobbies lost no momentum. Plenty of events were planned through each night, so the party never stopped. With the combination of the long drive and little sleep the night before, I knew I wouldn't last too long. I spent some time with the people still partying in the Marriott lobby before venturing out for one last walk around. I am so glad I did because I ran into a gang of Mighty Nein bunnies, featuring my friends Kelsey and Haley from North Carolina! I love mashup costumes, so these sexy versions of the beloved Critical Role characters were wonderful to see. 
I was ecstatic to see my two adorable friends again, who I hadn't seen since Supercon last year when Haley gave me a Disney princess bandaid as Jester. When I first met them, I hadn't seen much Critical Role cosplay and their Jester and Mollymauk completely blew me away. Haley (@tinyechoes) didn't wear Jester at Dragoncon, but her bunny Caleb and Vax'ildan were fantastic. Kelsey (@ledasubatomica) wore a bunny Calianna (one of the guest characters) and even brought Mollymauk out for the big CR shoot on Saturday. Seeing them again was a great way to cap off the night.
As their crew disbanded to return to their respective hotels, Kelsey and I wandered back into the Marriott. That's where we found Christian Killion (@shadowkillion), a wonderful human being with a near masochistic obsession with body paint. I like to give him trouble because most people have only ever seen him in full face paint. This time, he was a stunning shade of silver as the X-Men's Colossus. Christian also knows a crazy amount of people. As both a Critter and a Star Wars fan, I'm always happy to see Christian at the cons I go to.
Soon after, exhaustion began to take me. After saying my goodbyes and goodnights, I made it back up to my room at about 2AM for some much-needed sleep.
KEEP READING: FRIDAY