Dolph Ziggler: The Evolution of a WWE World Heavyweight Champion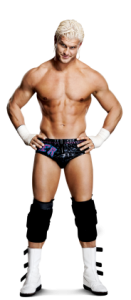 It's been a long road for WWE's newly crowned World Heavyweight Champion Dolph Ziggler. Many WWE fans have wanted to see Ziggler get a title run for months. On the Monday April 8 Monday Night Raw, that became a reality when Ziggler cashed in his Money in the Bank briefcase to defeat Alberto Del Rio.
Ziggler has been a fixture in the WWE since 2004. Since then, he has undergone a number of transformations to his character. Ziggler made his television debut on September 19, 2005 on Sunday Night Heat. He went by the name "Nick Nemeth". He played a caddy to "Kerwin White," who was played by Chavo Guerrero. He made his in ring debut on Heat in a tag team with Guerrero. The two faced Shelton Benjamin and Matt Striker. After Guerrero dropped the "White" bit, Ziggler wrestled in dark matches and house shows. He was eventually sent down to Ohio Valley Wrestling, the minor leagues of the WWE. At that point, one would probably have thought, his chances in WWE were over. It's not like Chavo Guerrero or Matt Striker had great runs, or developed into main event stars, so what led to Ziggler prospering into the star he is today? It didn't happen overnight.
In 2005, Ziggler's "Nemeth" character surfaced again in the WWE, but this time he played a male cheerleader in the Spirit Squad. Ziggler adopted the name "Nicky" as a member of the 5 man cheerleading squad, which could be one of the dumbest ideas in professional wrestling history. Fans absolutely hated the Spirit Squad. Nonetheless, they had their in ring debut on January 23, 2006 when they helped Jonathan Coachman, who is now an anchor on ESPN, defeat Jerry "The King" Lawler in a Royal Rumble qualifying match. The squad also played part of the ongoing feud between Vince McMahon and Shawn Michaels. The squad became tag team champions in 2006, when they defeated Kane and Big Show. After a lengthy run as tag champs and feuds with Degeneration X, Ric Flair, and 'Hacksaw' Jim Dugan among others, the group was disbanded in November of 2006.
After being sent back down to the OVW, Ziggler spent most of 2007 and some of 2008 in WWE's minor league system. In November of 2008, after serving a 30-day suspension for violating WWE's wellness policy, Ziggler debuted his character wrestling fans know him as today. He lost his first match to Batista, before earning a count-out win over R-Truth and his first pin-fall win over Charlie Haas.
In 2009, Ziggler was drafted to Smackdown. He made his debut on April 17 of 2009, when he defeated MVP for the United States Championship. Ziggler then entered into a long feud with The Great Kahli. Not exactly burning up the television, Ziggler went into a feud with Rey Mysterio. His feud with John Morrison was the first time Ziggler really showed signs of greatness. The pair had some great matches throughout the feud. Ziggler caught a big break when he was able to compete in the Money in the Bank match at WrestleMania 26. While he was unsuccessful, he was noticed by many fans. After beginning a relationship with Vicki Guerrero in 2010, Ziggler won the Intercontinental Title from Kofi Kingston on a Smackdown episode.
Following a five-month reign, Ziggler lost the title to Kingston on January 4, 2011. But, that same night, he won a fatal four-way match to become the number one contender for the World Heavyweight  championship. Ziggler then entered into a feud with Edge. Edge was one of the WWE's top superstars at the time. This allowed Ziggler to show the WWE audience just how good he could be. In a strange and ridiculous story-line, Ziggler actually captured the Word Heavyweight Title, only to lose it 11 minutes and 23 seconds later to Edge. After losing the title, Smackdown manager Teddy Long fired Ziggler.
Ziggler then debuted on Monday Night Raw in March of 2011. He joined forces with Vicki Guerrero. He had another feud with Morrison, again a very strong opponent. Ziggler regained the United States Title in June 2011 in a feud with Kingston. Ziggler went on to have a few noteable feuds with stars such as Zack Ryder and Evan Bourne. Ziggler, most notably, lost his title to Ryder, after actor Hugh Jackman punched him in the face during an episode of Raw.  It was reported that Jackman really broke Ziggler's jaw. That rumor, however, was denied by Ziggler.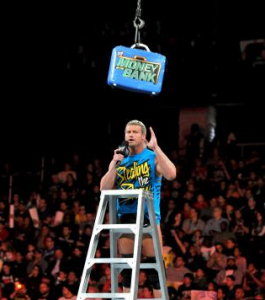 Ziggler then entered into the tag-team division with Jack Swagger. The pair had some noteable feuds, but Ziggler found more success in singles competition. He feuded with World Heavyweight Champion Sheamus for a few months, ultimately losing a title shot at a pay-per-view. Fast forward through some bouts for the WWE title against C.M. Punk and we are at the 2012 Money in the Bank pay-per-view in July. Ziggler goes through a group of other wrestlers; including Cody Rhodes and Sin Cara to win a guaranteed shot at the World Heavyweight Championship.
Fans waited for months for Ziggler to cash in the opportunity. During the ensuing months to WrestleMania, Ziggler joined forces with diva, AJ Lee and newcomer, Big E Langston. He had feuds with John Cena, and the tag team of Daniel Bryan and Kane. While not always coming out victorious, fans were usually supportive of him, even in a heel role. The opportunity that fans and apparently Ziggler had been waiting for occurred the Monday after WrestleMania when he captured the gold.
Now that Ziggler sits atop the WWE food chain as World Heavyweight Champion, the question becomes who will he face? Will he turn face? Will he stay heel? There are a number of interesting scenarios the WWE can take with Ziggler. I am guessing that he stays with A.J. and Langston for a while. I think he has formidable competition with Del Rio, Sheamus, Jericho, and Randy Orton. I look for him to stay heel for a while. I wouldn't be surprised if his title run last a number of months. I could see a face turn in his future, but just not right away. The WWE has to go with what's working. The fans love his show boat, cocky attitude. With whatever happens, one thing is for sure, the WWE has finally realized what fans' wanted to see for a while, Ziggler at the top of the food chain. It's his time to shine, or as he says, show off.