Documentary Review: 'The Act of Killing' by Joshua Oppenheimer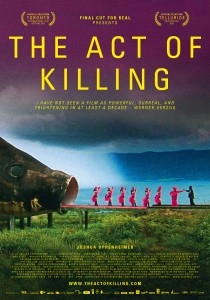 "In 1965, the Indonesian government was overthrown by the military.
Anybody opposed to the military dictatorship could be accused of being a communist: union members, landless farmers, intellectuals, and the ethnic Chinese.
In less than a year, and with the direct aid of western governments, over one million "communists" were murdered."
Those are the words displayed on screen in the opening minutes of The Act of Killing, a bold, ballsy and unsettling documentary from director Joshua "Josh" (as he is known to the subjects) Oppenheimer and a crew predominantly known as "Anonymous". This is the story Anwar Congo, a torturer responsible for the deaths of many of the aforementioned one million plus, who, along with a number of his associates, is given the opportunity to indulge his big Hollywood fantasies by reenacting a number of the murders committed. Think of it as a highlight reel straight from the bloody bowels of hell.
What initially begins as a fun game of "remember when" for the Congo gang, soon begins to open Anwar's eyes to what he actually did. His band of bandits, however, seem to relish reliving the good ol' days, becoming more and more terrifying as they simply share stories over lunch. These are bad people. And how the filmmakers, including executive producer Werner Herzog and Errol Morris, managed to get these men into play-acting out their atrocities just serves to show how completely lost civilization can get. As far as the many extras – including one man who barely escaped murder as a child – working as background players, it's clear to see that this experiment is a little less than enjoyable and a little more due diligence to the dark cloud of menace that still surrounds Congo and his crew.
And yet… there is still a beacon of humanity in Anwar Congo. Such as when he tells his grandson to be careful with a baby duck because it has a broken leg, caused by the child, and tells him apologize to it. Or when he watches his own death scene, in a bizarre twist that has him actually portraying one of his victims in his final moments.
The Act of Killing is not the tightest documentary around, especially coming from such pedigreed filmmakers as Herzog and Morris, but it is certainly one of the most mesmerizing.
Now playing at the Landmark Tivoli Theatre in St. Louis.