David Letterman Caught in Extortion Scandal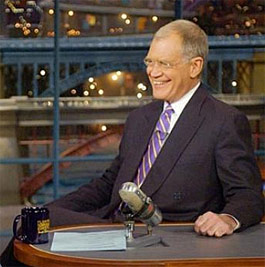 Well, David Letterman is involved in his biggest scandal yet. One that trumps a feud with another tv talk show host, this time a CBS staffer, producer Robert Halderman has tried to extort Letterman for $2 million dollars. Halderman claimed he would bring to light "some terrible, terrible things". Among these is affairs with staffers on his CBS talk show. Letterman who last year married his girlfriend, and mother of his child Regina Lasko who he has been seeing since 1986. Reports are saying that the two are still together.
"This morning, I did something I've never done in my life," Letterman said. "I had to go downtown and testify before a grand jury." In front of the jury he had to testify to affairs with female staffers of his own show. "Would it be embarrassing if it were made public? Perhaps it would," he said on the show. "I feel like I need to protect these people. I need to certainly protect my family."
Watch the video of Letterman explaining:

How does this make you feel of Letterman? Do you think his ratings will go down? Let us know what you think in the comments!