EA and FOX Developing 'Spore' into Animated Film
No surprise from me, but EA is getting in the movie business. EA has hit gold with Will Wright's productions mainly his line of 'Sims', but they recently scored a hit with his new game, 'Spore'. 'Spore' give you the opportunity to create species from a single celled organism all the way up to dominate race on a planet. The game has no set storyline, no main character (other than the one you create), which means this will be an adaptation more in name than anything else.
From Variety.com:
---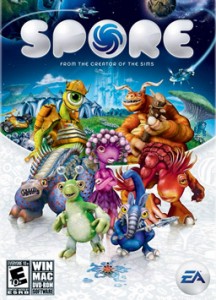 Twentieth Century Fox has paired up with Electronic Arts to turn the publisher's popular "Spore" game into an animated creature feature, with "Ice Age's" Chris Wedge attached to helm.
Greg Erb and Jason Oremland, who penned Disney's upcoming "The Princess and the Frog" and Ben Stiller pic "The Return of King Doug" at Paramount, will write the script for the "Spore" movie. It will be produced as a CG-animated toon by EA and Blue Sky Studios, which is behind the studio's "Ice Age" pics, "Robots" and its next effort, "Rio."
In the game, which was released in September 2008, players create their own creatures and the worlds they live in and share them with other gamers to create an overall universe.
"I'm always looking for unique worlds to go to in animation," Wedge said. "From every perspective — visually, thematically and comedically — the world of 'Spore' provides the potential to put something truly original on the screen."
Fox is especially high on Wedge after "Ice Age" turned into a major franchise for the studio, generating $1.9 billion from three pics since 2002. He recently exec produced the third installment and "Dr. Seuss' Horton Hears a Who" for Fox.
Last week, the studio locked down the toon "Leaf Men" for Wedge to direct, stopping a tug-of-war with Pixar (Daily Variety, Sept. 23). Blue Sky is also producing that pic for Fox Animation.
More than one option
* (Co) Daily Variety
Filmography, Year, Role
* (Co) Daily Variety
Wedge additionally has the live-action pic "The Invention of Hugo Cabret" set up at Warner Bros., with Graham King and Johnny Depp producing.
EA Entertainment's Patrick O'Brien will exec produce the "Spore" pic with Lucy Bradshaw, VP of Maxis Studio, which developed the game with Will Wright, who also created the blockbuster "Sim City" and "The Sims" franchises for EA.
A movie is seen as a way to not only boost interest among current gamers and newbies to the property, especially as sequels and expansion packs are released, but also to create a new source of revenue for EA.
So far, various iterations of "Spore" have sold more than 3.2 million units.
Yet, "with more than 100 million unique creatures uploaded to our website, it's clear that people are passionate about the game, and it will be exciting to offer a powerful medium like film in order to expand their experience with 'Spore,' " Bradshaw said.
EA has set up a bigscreen version of "The Sims" at Fox, with John Davis producing. At Universal, it has "Army of Two," with director Peter Berg, and "Dante's Inferno," with Strike Entertainment producing. DJ Caruso will helm "Dead Space," with Marty Bowen and Wyck Godfrey producing, and "Mass Effect" is set up with Avi Arad.
The "Spore" pact is the sixth pic deal that EA has set up since it aligned with UTA.
---
The bright vibrant design of this game lends itself easily to the world of digital animation. My biggest worry is the fact that there is no discernible storyline within the Spore universe, other than the one you create. It will also be interesting to see if middle America accepts a children's film that deals with evolution. Only time will tell.