David Fincher's "The Girl with the Dragon Tattoo" Hitting Theaters December 2011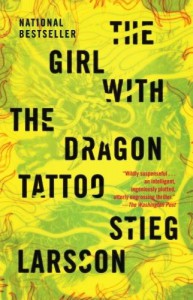 Sony Pictures has set a release date for David Fincher's take on The Girl with the Dragon Tattoo, the film will be released into theaters December 21, 2011.
The Girl with the Dragon Tattoo is an adaptation of the Steig Larsson book of the same name from his Millenium Trilogy. The film already has a Swedish adaptation that has garnered critical acclaim, and has taken in $101.6 million worldwide box office receipts.  Currently the sequel, The Girl Who Played with Fire, has taken in $53.3 million so far. The third installment, The Girl Who Kicked the Hornets' Nest, has not been released here yet.
Sony Pictures plans to make a trilogy with Fincher at the helm, and plans to release the three films as quickly as possible.
"We're doing the book. That's why we hired David Fincher. We're going to really do this, in all their glory. Otherwise why do it? They're very R-rated movies,"  Sony Pictures Co-Chairman Amy Pascal said. "It's the shock of what's really going on underneath the surface of society. If you don't actually make good on that, you haven't told the story."
Casting for the lead character has not been done, but Pascal said, "No, we are going to do a global search on her. Every actress in the world wants it. It's the greatest character for a girl since I-don't-know-what."
I'm wondering if this sequel will take as much heat as Let Me In. My guess is probably not since a high profile director like David Fincher is the one taking the reins.  It amazing to see him putting out so much work lately, especially since he seemed to not put out much for a while in between Fight Club and Zodiac. Let's hope this high output continues.
What do you think? Let us know in the comments!