Dave Matthews Band Returns To St. Louis Tomorrow – Read The Review From Last Year's Show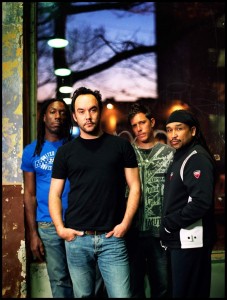 Dave Matthews Band returns to St. Louis tomorrow, on June 16.  They will be playing the Verizon Wireless Amphitheater.  If you didn't catch my review from last year, here it is.
—

My wife loves, loves, loves the Dave Matthews Band…but I married her anyway.  So, being a kind and caring husband (and wanting to remain happily married), I went to DMB concert with her last year.  Now, on the eve of our seeing Dave yet again, here's a running account of my evening.
7:35pm – Finally get in the gate.  Traffic was lousy but we showed up after the first band had started.  So it's our own fault.
7:47pm – Man, I'm glad we were late.  It's hot out.
7:53pm – Still…um, waiting (yeah, let's go with "waiting) for Dave.
8:01pm – When did DMB shows go from being "Sorority Girl Central" to "Cougar-fests"?
8:15pm – Dave takes the stage.  Be still my beating heart.  Although I am the beneficiary of my wife's love of men with receding hairlines.
8:32pm – I swear this is not a thinly veiled shot at the band but…why does Verizon Wireless Amphitheater smell like raw sewage?
8:39pm – Man, it's hot.  I'm sweating like frat boy on Jeopardy.
8:45pm – Half-an-hour into the show…still waiting for a hit song.
8:51pm – Good lord…the smell.  Is this what happens when patchouli oil and hemp bake in the sun?
9:00pm – 45 minutes into the show…still waiting for a hit song.
9:12pm – Can we do anything about the smell?  I hope people start smoking pot to hide the smell.  What's this world coming to when you can't count on DMB fans to smoke weed?
9:15pm – One hour into the show…still…waiting…for…a…hit…song.
9:22pm – Dave says he's playing something off of the new album.  I'll have to take his word for it.
9:30pm – One hour and fifteen minutes into the show and…we have a hit song!  Hooray for "Crush".  Congratulations DMB, your "hits per show" ratio is now on par with Dishwalla and Deep Blue Something.
9:31pm – The wife goes to the bathroom.  Way to go, honey.  Everyone knows that real fans don't care about the hits.  I'll wait here and bask in the warm glow of familiarity.
9:47pm – Dave just mentioned how hot it was.  You know it's hot when the guy from Africa is complaining.
10:00pm – One hour and forty-five minutes into the show…still waiting for hit song #2.
10:13pm – A question for DMB fans: Air violin?  Really?  You know this makes you no better than a Kansas fan at Rib America, right?
10:15pm – Two hours into the show… Still waiting for hit song #2.  Come on, Dave.  You can do it! We're all rooting for ya!
10:30pm – Last song of the set and it's…not a hit a song.  C'mon, Dave.  You have to play at least as many hits as the Spin Doctors.  Maybe he's saving everything for the encore.
10:37pm – First song of the encore AND… not a hit.  You know, say what you will.  But I, for one, admire the man's consistency.
10:38pm – Well, at least we weren't subjected to a bass solo.
10:39pm – Strike that.
10:45pm – Two and half hours in and we finally have hit song #2.   Unfortunately (?) it's not one of his.  It's his obligatory cover of All Along The Watchtower.
10:52pm – Thanks to the new fashion trend of braless girls wearing summer dresses, the evening won't be a total waste.
10:55pm – Shows over.  Two hours and forty minutes and a grand total of one hit song.  But the wife had a good time and that's all that matters.  All I know is after all that, she'd better Crash Into Me when we get home.