First Promo Trailer for HBO's "Game Of Thrones" Starring Sean Bean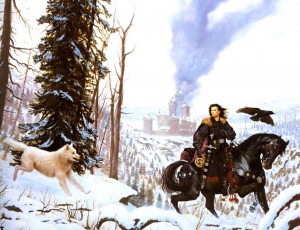 Fantasy fans must be going wild right now. Game of Thrones is a fantasy story with high production values, an all star cast, and the most powerful cable network backing it. Fantasy has made a leap into the mainstream with the blockbuster success of the Lord of the Rings series.  Game of Thrones is a bit less fantastical than Lord of the Rings, but it will most likely attract much of the same audience.  The first part, Song of Fire and Ice, has been green lit, and will be coming out eventually, but will HBO be able to finish the story? Carnivale and Deadwood both attracted high viewership ratings for the network, but ultimately fell to budget issues. This series looks like it could have some very high production costs, which hopefully won't stop it from going through the whole series. Needless to say, I'm really digging HBO's upcoming lineup.
Synopsis:
Based on the George R.R. Martin novels, the new series centers on seven noble families who fight for control of the mythical land of Westeros. Robert Baratheon, King of Westeros, asks his old friend Eddard Stark to serve as his chief advisor. Eddard, suspecting that his predecessor had been murdered, accepts so that he can investigate further. It turns out more than one family is plotting to take the throne. The conflict between these families leads to war. Meanwhile, in the north, an ancient evil awakens. Amidst war and the political confusion, a brotherhood of misfits, The Night's Watch, is all that stands between the realms of men and the horrors beyond.