Contamination 2011: The Sequel hits St Louis starting this weekend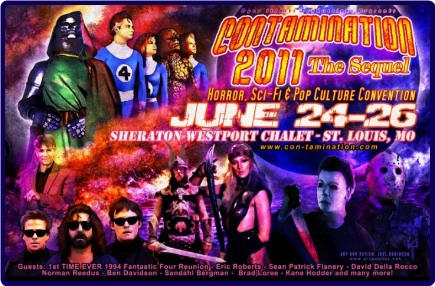 Contamination 2011 Offers Celebrities, Concerts, Parties, Movies & More!
The area's only pop-culture/horror/sci-fi convention all under one roof June 24-26
Dyer Straits Productions (DSP) presents year two of St. Louis' only pop-culture, horror and sci-fi convention on June 24-26, 2011.  Contamination 2011: The Sequel takes place at the Sheraton Chalet in Westport Plaza and is bigger and better with celebrities, film icons, TV stars, sports figures, models/Playmates, filmmakers and musicians.  Eric Roberts and "The Boondock Saints" Sean Patrick Flanery, Norman Reedus and David Dela Rocco are headlining the event along with an impressive lineup of icons at this highly anticipated follow-up event.
In addition to horror fan favorites [Kane "Jason Voorhees" Hodder/"Friday the 13th parts 7-10", Brad "Michael Myers" Loree/ "Halloween Resurrection," Bill "Leatherface" Johnson/"Texas Chainsaw Massacre 2" and Tony "Candyman" Todd/"Candyman 1-3"] there will be a first ever "The Fantastic Four" (1994, Corman) reunion, a "Day of the Dead" Reunion,Dan Shor (Ram in 1982's "Tron"), "Conan the Barbarian" stars Sandahl Bergman and Oakland Raider Ben Davidson and Grammy winning musician G Tom Mac(who wrote the iconic Cry Little Sister from "The Lost Boys") will perform live with his band.
Fans will get a total "Celebrity" experience: a chance to meet the celebrities, get autographs and pictures and a lucky few will even get to have dinner with them.  There is a 24 hour movie room…an outdoor "Drive In" movie experience…a concert by a Grammy award winner…prizes for best costumes…shopping in the dealer room… seminars with the celebs and filmmakers…and "Contaminated" parties all weekend long!
Tickets for the weekend convention and concert are available online now, but the VIP passes, Celebrity Dinner tickets, Vendor Tables and rooms at the Sheraton Westport have all sold out.  Much more information can be found on the DSP website.  Check the site and their Facebook page for updates and a complete list of celebs, artists, filmmakers, musicians and vendors.
The successful event that began this new tradition in St. Louis – Contamination 2010 – was held April 30 through May 2, 2010 at the Holiday Inn Viking and featured film legends from popular horror classics like "The Howling" and George A. Romero's "Night of the Living Dead," pop culture icon Larry Thomas "The Soup Nazi" from "Seinfeld," sports legend Ken Norton, the 70s Godfather of Soul Cinema Fred "The Hammer" Williamson, "The Lost Boys" Brooke McCarter and Billy Wirth and showcased one of the most recognized cars in the world – The Batmobile.
Here are the Contamination Interviews over the last two Fridays on The Great Big Entertainment Show with your host Raven
Dave Dyer– Dyer Straights Productions (The guy who put the whole thing together)
G Tom Mac– Artist responsible for "Cry Little Sister" from "The Lost Boys", He has also won a Grammy for his contributions on Eminem's "Recovery" Album and he has also wrote and performed endless amounts of songs over the last 25 plus year. His latest work is featured in the movie "Emerging Past"
Max Wasa– She is a former Playboy Playmate who has appeared in multilple Horror films and has also been named as one of The Greatest Women of Horror and Sci-fi
Thomas Churchill– He is a Film Producer, Director, Writer, and Actor. He has been involved in such movies and shorts as "Devoured", "Death 'N Taxes", "Night Out: Vampires", and his latest projects are "Mr Hush" and "Emerging Past"
Thomas Chuchhill Interview Part 1
Thomas Chuchhill Interview Part 2
"The Fantastic Four" Stars
Rebecca Staab– She played Susan Storm in "The Fantastic Four". She has a long line line of TV Sitcoms in which she starred in or was a part of over the last twenty years
Alex Hyde-White– He Played Dr. Richard Reed (aka Mr Fantastic) in "The Fantastic Four". He has also had an amazing career that has spanned over the last 25 years
For this and much much more make sure you get yourself "Contaminated" and come out to Westport and enjoy Contamination 2011: The Sequel